Ford Mustang to get hybrid variant in new electrification push
V8 levels of power and torque when Ford's hybrid pony-car arrives in 2020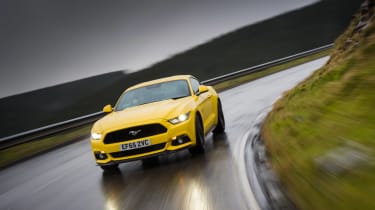 If you thought the concept of a 2.3-litre EcoBoost version of the latest Ford Mustang was sacrilege, then you might be bemused by the company's announcement that a hybrid model is on the way.
Along with hybrid versions of the F-150 pickup sold Stateside and the Ford Transit, the hybrid Mustang will be part of a large push towards electrification in the Ford vehicle lineup.
Ford will invest $4.5billion - around £3.7billion at current exchange rates - in electrified models before 2020, with $700million (£570million) put towards expanding its Flat Rock, Michigan assembly plant alone. Flat Rock will become a centre for autonomous and electric vehicles, as well as Lincoln models and the Mustang.
The Mustang is undoubtedly the most interesting product for evo readers, and Ford is claiming its hybrid version will develop 'V8 power' and greater low-end torque than the current GT. If it manages to maintain the character of the current car, it could be hugely appealing - and will give customers a much-needed option in a segment of the market currently devoid of entertaining hybrid models.
> More: Ford Mustang review - V8 GT, EcoBoost and Shelby GT350 driven
It will make its debut in 2020 in the North American market, and for the time being at least Ford hasn't indicated any intentions to replace the existing 3.7 V6, 2.3 EcoBoost or 5-litre and 5.2-litre V8 models with the new hybrid.
The Mustang Hybrid will be joined in 2020 by a 300-mile fully-electric small SUV and an F-150 Hybrid pickup, which may appeal to working customers by allowing them to use its hybrid battery as a mobile generator.
The plug-in hybrid Transit will debut a year earlier in the European market, while other electrified models include an autonomous, ride-sharing vehicle in 2021 and a brace of pursuit vehicles for America's police forces.
Ford is one of dozens of manufacturers now selling electrified vehicles in large numbers globally, with 560,000 hybrid and plug-in models sold since 2005. The company's data backs up that of other manufacturers too, with nine in ten customers covering less than 60 miles per day and similar numbers suggesting they'll replace their existing electrified vehicle with another.