2020 Ford Mustang GT350R updated with performance tech from GT500
Ford's extreme Mustang GT350R has picked up a few bits from the GT500, but won't be coming to the UK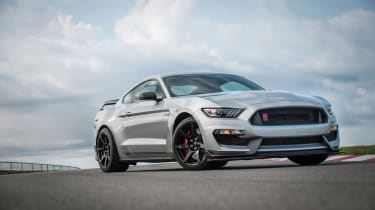 Ford's fantastic Shelby Mustang GT350R has been breaking muscle car conventions with its highly-strung V8 and track-focused handling since 2015, but has now been through a round of subtle component revisions learnt from the recently revealed Shelby GT500. 
Despite the standard Mustang undergoing a major update last year, so substantial is the difference between the normal car and the GT350, the latter has soldiered on largely unchanged since its debut. That is until now. As of 2020, the GT350 will pick up some new detail components derived from the louder, faster new GT500, with new front suspension geometry and new front steering knuckles designed to improve steering precision.
To complement this new hardware, a new steering rack has also been fitted, alongside a recalibrated electric power steering system. Final changes include a refreshed colour palette, with a new vivid orange replacing the iconic yellow that formed the model's hero colour on launch, and a new lime green, both of which are inspired by the Mustang's long and storied past.
The changes only apply to the more extreme GT350R, which strips the standard GT350 of many of its convenience features, while fitting it with standard carbonfibre wheels, a taller rear wing and front splitter. 
A more open exhaust system also helps the 5.2-litre flat-plane crank V8 both breathe and rev more vocally, while it's stripped-out interior only further reduces mass. As wonderful as the standard Mustang GT is though, the GT350R, like its GT350 and GT500 siblings, will remain a frustrating omission from Ford's UK model range.