A trip on Ford's private Boeing 737 – evo Archive
Why the lavish launch of the 2006 Shelby GT500 left a lasting impression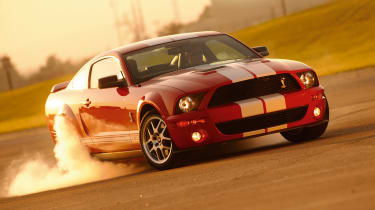 I think I became a motoring journalist too late to experience most of the really extravagant launches. Or perhaps it was just that those invitations never made it further than Harry Metcalfe's desk. But there is one launch that I will always remember as much for the event as the car itself: the first drive of the modern-era Ford Shelby Mustang GT500.
It was 2006, I was 24 years old and I'd been with evo for about a year. It was my first trip across the Atlantic, which was an adventure in itself, and I flew to Detroit, but not to go to Dearborn. I simply stayed in an airport hotel overnight before getting on Ford's private Boeing 737, bound for California, the following morning. I remember sitting in an enormous brown armchair and glancing out of the window to see the Grand Canyon below.
We landed at Ontario International Airport and were then driven to the nearby California Speedway. We didn't mix it with the NASCARs rumbling round the oval, but instead had a bit of a play in the GT500 on the Mickey Mouse infield circuit. Much more memorable, though, was being handed a business card that I still have today – that of Carroll Shelby. It was just me and him standing on some sort of viewing platform overlooking the circuit, no other journalists or PR people. He was 86 years old by that point, but still an impressively imposing man, especially dressed head-to-toe in black, in spite of the roasting heat. I talked to him (rather nervously) for a while about the car – they had a prototype running around with independent rear suspension, apparently – and also the Goodwood Revival, where I'd once seen him from a distance. I asked if he would be going back to the Sussex circuit that year, but he said no: 'too dangerous'.
> Ford Mustang Shelby GT500 UK review – how does Ford's maddest muscle car handle Blighty?
Then it was back on the private jet that afternoon to fly north to Oakland, on the other side of the bay from San Francisco. The next morning I drove a 1960s GT500 KR around the block, before heading out for a long road test in the new GT500. That evening it was into a dinner jacket (or tux) and down to the nearby Pixar Studios for a charity gala dinner. 
After dinner, the eight or so guests of Ford were ushered away from everyone else into a small cinema, complete with an editing desk in the middle of the seats. John Lasseter then popped in to introduce us to a character called Lightning McQueen and a new animation, Cars. He explained how the vehicles were anthropomorphised and the automotive details they'd put in the beautiful landscapes. This was to be the world-first showing of the film, weeks before the premiere. I'm ashamed to say (particularly in front of my three-year-old son) that jet lag got the better of me and I had a nap halfway through.
The flight home was the next day and nothing was scheduled other than some more food. However, I'd been talking to photographer Barry Hayden who was there for another magazine. His journalist had already headed home but he really needed to go over to San Francisco to get some more Bullitt-type shots with the Mustang. I offered to help. So, very early in the morning, we went over the Golden Gate Bridge, took some photos with Alcatraz in the background and, of course, I drove up and down the famously steep streets, pretending to be Steve McQueen. 
None of this, you will be pleased to hear, influenced my four-and-a-half star rating of the car in issue 093.