Honda's record Pikes Peak entries
Honda will attack the 2013 Pikes Peak hill climb with ten vehicles, including a very special NSX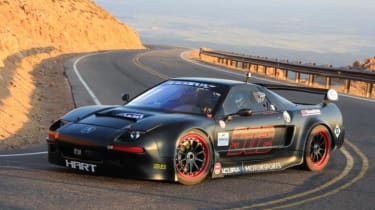 Honda has announced it will enter the 2013 Pikes Peak hill climb with no less than ten vehicles, setting a record for the number of classes entered by a single manufacturer.
American Honda has taken limited sponsorship of the event, while its entries for the race comprise cars, motorcycles and ATVs, demonstrating the depth in the Honda product range.
Four of the ten are cars, and these include the electric Fit EV, a CR-Z and an Acura TL. Last year Honda competed with the NSX Project, which finished fourth in its class and 12th overall, with this year's goal set to be the first place of the Pikes Peak unlimited class, Peugeot's official 208 T16 effort a key rival. The 500bhp, twin-turbo 2.8-litre V6 NSX (which is also carbon-bodied) made quite an impact last year on its first appearance and the team is ready for this year's challenge.
The competition made harder by the big challenges the participants face, such as a climb from 2865 to 4301 metres and a typical 30 per cent loss in engine power as the race cars hike towards the high-altitude finish line.