Hyundai Veloster Turbo Night Racer
A tuned Hyundai Veloster Turbo is primed for night racing and a SEMA show appearance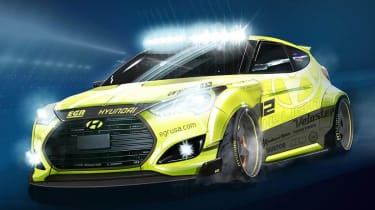 A tuned Hyundai Veloster Turbo will be on show at the 2013 SEMA show. The motor show, which centres around modified cars, takes place in November in Las Vegas. Hyundai has a recent history of showing cars at SEMA, and this Veloster looks set to be the wildest yet.
Called the Yellowcake Night Racer, it has been developed in conjunction with design company EGR. And it's not named after a slice of battenberg, its curious name coming from the term used for a form of uranium with which it shares its lurid colour.
Living up to the Night Racer part of its name, the Veloster gets an unmissable LED light bar atop its roof. Other exterior changes include a wider body kit, custom headlights and lightweight wheels wrapped in Toyo Proxes R888 tyres. Under the skin, there's a roll cage to increase rigidity and ARK coil-over suspension, which yields a dropped ride height.
The engine has received some attention from Bisimoto Engineering, too, with the Veloster Turbo's forced-induction 1.6-litre four-cylinder being roused from 184 to 250bhp, which ought to perk up the standard car's 8.2sec 0-60 time and 133mph top speed considerably.
What this concept means for the future of the Veloster Turbo is unclear, but with its relation – the Kia Proceed GT – garnering a lot of praise recently, and possessing a lump of extra power compared to a European-spec Veloster, the asymmetrically doored Hyundai seems prime for some tickling.