Infiniti Q Inspiration revealed before Detroit debut next week
Released without any further information, the Infiniti Q Inspiration is a look ahead into the future of Infiniti design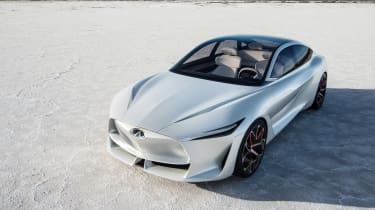 Infiniti's next generation of design has finally been revealed in the form of the Q Inspiration Concept due to be revealed at the 2018 Detroit motor show. Following on from a set of teaser images, the latest gives us our best look yet at the car in full.
Under the stewardship of ex-BMW designer Karim Habib, the Q Inspiration takes the form of a large, long hatchback similar in premise to the Porsche Panamera and Audi A7. Introducing a new, simplified surfacing style, the sleek concept does away with Infiniti's current design elements such as the hourglass grille and switchback window pillars in favour of a smoother more restrained aesthetic. 
> Click here to read our review of the Jaguar XJ575
Infiniti has neglected to mention many details regarding powertrains, but Karim Habib, Infiniti's Executive Design Director explains: "The Q Inspiration features a shorter hood and elongated body", pointing towards compact drivetrains and an almost certain inclusion of electrification of some type in the concept.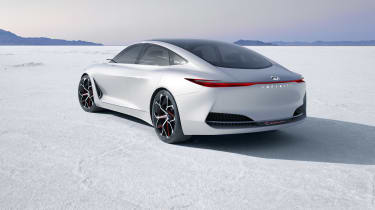 Regardless of the Q Inspiration's relevance to a specific production model, the body's heavily sculpted sides are a fresh re-interpretation of Infiniti's current surfacing style. Focusing on round shapes and muscular rear haunches, these elements will eventually find their way into future production models. The previously released front image shows a simplified grille shape and lots of enclosed space, further supporting the electrified powertrain theory.
It's hoped the Q Inspiration will be an important step in helping Infiniti find its feet outside of the US. The brand has so far struggled to find any great sales traction in Europe and the UK, this design revamp, as well as exciting new tech like the variable compression engine due in this year's new Q50 SUV might well help catapult Infiniti more forcefully into the premium arena.