While the second-generation Porsche Panamera might not seem to have outwardly changed since its introduction in 2017, the Panamera range in 2020 is quite a different proposition to what it once was. Initially revealed with V6 and V8 petrol and V8 diesel engine options, the Panamera has since dropped the diesel (as have all of Porsche's model lines), and proliferated with two distinct E-Hybrid models, a second Sport Turismo body shape and the new mid-level GTS.
While these new variants haven't generally changed the Panamera's character, they have made it an arguably more rounded and tempting proposition for those in the market for a large do-it-all luxury car that has more sporting pedigree than most. Of course, the Panamera is no longer unique amongst its rivals, with AMG's GT63 S 4-Door siding itself as a direct rival to the Panamera, and BMW's new 8-series Gran Coupe recently arriving on the scene.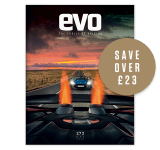 Subscribe to evo magazine
Subscribe today to have every issue of evo delivered straight to you. You'll SAVE 39% on the shop price, and get evo for its original cover price for a whole year!
What its rivals lack is variety, something the Panamera has with a total of six different V6 and V8 powertrain options, both with and without any hybrid assistance. All Panameras are all-wheel drive and share an eight-speed dual-clutch gearbox, and get creative with the options list and everything from adaptive air suspension and rear-wheel steering to power-torque vectoring and even an anti-roll stabilisation system can be fitted.
The aforementioned Sport Turismo is a recent addition to the range that replaces the standard Panamera's sloping hatchback with a long-roof, estate-like body. Although boot space is unchanged on paper to that of the hatchback version, its key is greater versatility, with more space above the beltline for improved dog/bike/mother-in-law conditions.
Porsche Panamera in detail
Prices, specs and rivals
All variants of Porsche Panamera are available in hatchback or Sport Turismo forms, the latter at a £2150 premium. Prices kick off at £72,890 for the basic Panamera 4, which features an Audi-sourced 3-litre turbocharged V6 engine producing 325bhp. Despite the Porsche badge, it's actually priced just below the BMW 840i Gran Coupe (£73,500) which has a similar six-cylinder powertrain, equipment levels and accommodation inside.
Next up is the Panamera E-Hybrid, priced from £83,718, with a more potent powertrain that combines a V6 petrol engine with a hybrid drive system for a peak 456bhp output. The Panamera 4S is more money again at £92,443, and is powered by a 435bhp 2.9-litre V6.
> Read about our experience in the Porsche Panamera Turbo S E-Hybrid
Next up is the recently added Panamera GTS at £107,139, which utilises a low-powered (relatively speaking) version of the 4-litre V8 twin-turbo with 452bhp. While its power figure is dangerously close to those of the Panamera 4S and E-Hybrid, the V8 has a very different character and a suite of chassis upgrades including standard air suspension with PDCC adaptive dampers, Porsche torque vectoring (PTV) and a Sports Design package to justify its near £15k price rise over the cost of the S.
The Panamera Turbo hits harder than the GTS with its 542bhp output from its twin-turbo V8, but then also does without some of the GTS's dynamic upgrades such as the sports suspension, Sport Design pack and Alcantara sports seats. Priced from £117,918, the Turbo rivals the more powerful 616bhp BMW M8 Competition Gran Coupe from £120,970 and the 630bhp Mercedes-AMG GT63 S (non-S models are no longer available in the UK) at £140,535. Both the BMW and AMG are more expensive, but then also better equipped – specify a Panamera Turbo with ceramic brakes, Porsche's active anti-roll system, rear-wheel steering, and other elements standard on the AMG and the price equalises, even if the power peak doesn't.
> Read our review of the Panamera Sport Tourismo Turbo
At the tip of the range is the Panamera Turbo S E-Hybrid at an AMG-matching £140,132, with an AMG-busting 671bhp peak power. While this model is fully loaded with all of the chassis tech listed above as standard (ceramic brakes, active anti-roll, rear-steer, etc) the additional 315kg the hybrid system adds to the Panamera Turbo's 2070kg kerb weight makes it a very different performance car, and only slightly faster despite its big power advantage.
While there currently isn't a high-performance hybrid rival for the Turbo S E-hybrid, AMG will soon change that with its own plug-in hybrid variant of the GT 4-Door, with rumours persisting of an even more powerful electrical-assistance system taking power up and over 700bhp.
All Panameras are well equipped, with standard leather trim, the full infotainment suite, 19-inch wheels and full LED lighting. Each model then builds on the standard equipment right up until the Turbo S E-Hybrid. Most of the features and chassis tech can all be cross-specified too, explaining the huge options list that can dramatically change the Panamera's driving experience and price point. It also makes it possible to equip a basic Panamera 4 to over double its list price in the UK (we got a £72,890 Panamera 4 to £153,430 in options using Porsche's excellent online configurator).
For less money, more mainstream supersaloons and estates from Audi, Mercedes-AMG and BMW are also clear rivals, although at £100,000 roughly for an RS6, E63 S and M5 Competition, the price variance between them is not quite as significant as it once was.