The all-new Porsche Panamera, like its predecessor, wants to be both a luxury saloon and a sports car according to Porsche. That's quite a task. It is very slightly wider (6mm), a bit longer (34mm) and a smidgen taller (20mm) than the outgoing model, but much more importantly, it is a lot better looking. It now has lines that suggest a four-door 911 – something which might have been the intention but wasn't the outcome with the original. The interior has also had a sweeping makeover, with sumptuous black panel surfaces and an enormous 12.3inch touchscreen.
Engine, transmission and 0-60mph time
Three new engines are available, all interestingly with VW codes, so expect to see them crop up elsewhere within the VAG empire. There is a twin-turbo petrol V6, that revs freely and sounds the most pleasing of the three but is arguably the least potent at 'only' 434bhp and 406lb ft.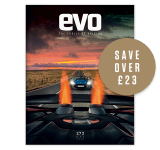 Subscribe to evo magazine
Subscribe today to have every issue of evo delivered straight to you. You'll SAVE 39% on the shop price, and get evo for its original cover price for a whole year!
Then there is a 4-litre, twin-turbo, V8 diesel that produces a monstrous 627lb ft of torque from just 1000rpm. It sounds gruff but good, and will sprint to 60mph in just 4.1 seconds with the optional Sport Chrono pack. However, the sequentially turbocharged engine on our test car seemed to hesitate slightly as it wound through the revs as though there was a pause as the second turbo woke up. Odd.
Finally, there is a mighty 4-litre, twin-turbo, V8 petrol engine that produces 542bhp and 568lb ft of torque but also has cylinder deacitivation to improve frugality. Interestingly the turbos, which are located in the middle of the V, are running at just 0.3bar, hinting at how much more this engine has to offer in years to come. Understandably the Turbo has the fleetest 0-60mph time, taking just 3.4 seconds in Sport Plus mode. It will go on to hit 100mph in a mere 8.1 seconds and tops out at 190mph. All Panameras are now all-wheel drive and there is no manual gearbox option either, with an eight-speed PDK 'box taking care of shifting duties.
Technical highlights?
Rear-wheel steering is now available as an option on the Panamera, effectively shortening the wheelbase at speeds up to 31mph and lengthening it thereafter. It also allows the Panamera to have a much more direct steering ratio on the front axle. The maximum steering angle the rear wheels can achieve, if you're interested, is 2.8degrees. Keeping control of the wheels is a new three-chamber air suspension system in place of the old two-chamber system. It has 60 per cent higher air volume and one chamber is shut off every time you ramp up through the PASM damper settings. This is standard on the Turbo and optional on the 4S models. There is also a central nervous system called 4D Chassis Control that collectively harnesses all the available attributes of the suspension, torque vectoring, PDCC and rear wheel steering to the best end.
Inside, the driver can make use of InnoDrive, which works with the adaptive cruise control. InnoDrive uses information from the navigation system to calculate the optimum acceleration and braking deltas for the upcoming three kilometres bearing in mind corners, inclines, speed limits and traffic. It then feeds this information to the gearbox, engine and braking system, which Porsche claims improves fuel economy. The system has been developed in-house at Porsche and the company claims there is nothing else comparable available.
What's it like to drive?
Very impressive. Sometimes the old car could feel rather like the front and rear axles had different ideas about how the chassis ought to be tackling a road, but the new Panamera feels like a much more harmonious proposition. It still feels big around town or squeezing down narrow country roads (of which there were a surprising number on our test route south of Munich) but on a section of smooth twisting tarmac it shrinks around you quite remarkably and you find yourself piling into corners and attacking hairpins with surprising boldness. The steering is quick and precise and it instils huge confidence in the front end, allowing you to not only get on the throttle early, but then balance the car nicely through a corner. There is enough of a sense of connection with how hard the tyres are working that I even found myself turning the ESP off.
Inevitably you feel the weight under braking, but the monstrous optional carbon ceramic brakes with 420mm discs and 10 piston callipers at the front allow you to push two tonnes of car right to the limit. In a straight line the Turbo is undeniably rapid but such is its composure that even under a full launch control getaway it almost feels unremarkable. That composure is also evident at big speeds on the autobahn. Cruising along at 170mph (in the diesel as it happens) I have rarely felt so at ease at such speed.
> Also read: BMW M5 review - the ultimate super saloon
The only word of caution comes, perhaps inevitably, with how it will cope with the rough and tumble of British roads. The air suspension was blissfully plush over bigger lumps and very well controlled when pushed hard on the smooth roads, but the secondary ride was occasionally less composed on the few bumpy stretches we found leading to a bit of shudder at low speed.
The overarching conclusion after driving the new Panamera, however, is that I can completely understand how the Turbo version set that staggering 7min38sec lap of the Nurburgring. It really does have a good stab at being both luxury saloon and sports car. It's a 4.5-star car; the slightly hesitant diesel a 4-star car.
Rivals and price
Starting at £88,700 for the 4S petrol, rising through £91,788 for the 4S diesel to £113,075 for the Turbo, the Panamera is now an extremely expensive car. Perhaps the closest rivals are the BMW 6-series Gran Coupe and Audi's 7 series.
The £94,750 M6 version of the Gran Coupe, has a 4.4-litre turbocharged V8 putting out 552bhp and 501lb ft of torque, although with rear wheel-drive it is slower to 60mph (4.2sec) and is also limited to 155mph. The £92,060 Audi RS7 Performance is arguably an even closer competitor with the Panamera Turbo. It boasts a (different) 4-litre twin-turbo V8, putting out 597bhp and 553lb ft.
> Also read: Audi RS7 v Porsche Panamera GTS
With quattro, this translates into a 0-100km time just 0.1sec slower than the Panamera. Add in a top speed (189mph) that is just 1mph shy of the Panamera Turbo and it starts to look like there has been some in-house pulling of rank…
There will soon be two new entrants in the marketplace that will tempt away Panamera customers too - the BMW M5 and Mercedes-AMG E63. At the time of writing the BMW hasn't yet been revealed (though expect a more belligerent take on the new 5-series), and the E63 will be making its debut soon. Both are expected to develop more than 600bhp in their most powerful forms and like the Panamera, all-wheel drive should be available on both. Pricing however should undercut the Panamera Turbo.
Anything else I should know?
After a brief go in a 4S petrol equipped with Porsche Dynamic Chassis Control (PDCC) we wouldn't recommend speccing it. It's a system we've struggled with in the past on other Porsches and it's the same here. The electromechanical anti roll system seems to remove some of the pleasing precision and sense of connection that the standard car has.
Also if you sit in the rear seats (a pleasant place to be even if you're possessed of a long inside leg measurement) of the V6 petrol 4S you get mild vibrations through the seats when the revs are up and the exhaust is in its most flatulent setting. This may or may not be appealing.