New Porsche Panamera teaser video released
Single image hints at Panamera's new look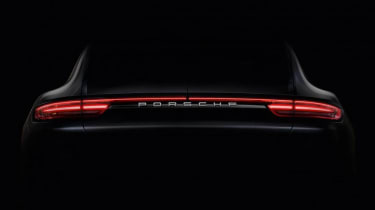 The new 2016 Porsche Panamera has been teased via a single image that shows the cars redesigned rear end. New look 911-style rear lights can be seen, complete with the interconnecting light strip typically reserved for four-wheel-drive 911s.
The new Panamera will bring with it a redesigned twin-turbo V8 engine. Announced at the 37th International Vienna Motor Symposium, the new motor is related to Audi's 3-litre V6 and will produce up to 547bhp in its most basic state of tune. Expect the new V8 also to make its way into the Cayenne.
There won't be a single naturally aspirated engine on offer with the new Panamera, instead everything will be turbocharged and consist of a choice of both petrol and diesel motors.
Spy pictures of the Panamera show a car that features a streamlined roofline and a longer bonnet, with a rear end that appears more like a wide-bodied 911. Prototypes have had their front and rear lights covered, suggesting a new design for the four-point LEDs currently featured in the new 911 and Macan.
The Panamera will retain its active rear wing, but otherwise should feature a fairly drastic redesign as Porsche attempts to do away with some of the car's negative design image. Spy pictures have also captured a new look interior which appears far more simple than the current generation's, drawing instead on that of the design of the 918 Spyder for its centre console.
VW Group's MSB platform will be used for the new Panamera, as well as the next-gen Audi A8 and Bentley Continental. Featuring extensive use of aluminium, the new platform should help reduce the weight of the Porsche four-door.
Expect to see more of the new look Panamera at the 2016 Paris Motor Show in October.