Infiniti Prototype 10 to grace Pebble Beach
Infiniti is once again brining a retro-styled concept to California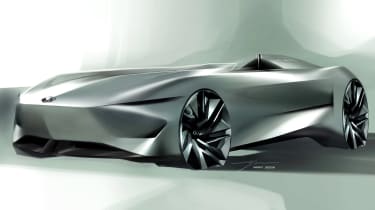 It seems like to be taken seriously as an upcoming premium manufacturer these days you need to be seen at the Pebble Beach Concours of Elegance with a design-focused concept, and right on cue, Infiniti has revealed yet more details of its latest concept, called the Prototype 10.
Taking the form of an electrically-powered 'speedster', the Prototype 10 is a preview of the design elements set to be integrated into the brand's future design language. A natural extension of the styling seen in the Q Inspiration concept that was revealed at this year's Detroit motor show.  
> Click here to see Infiniti's Prototype 9
Moreover, the concept's electrified drivetrain emphasises the importance Infiniti places in electric powertrains (as, it would currently seem, do all manufacturers), and sees it as an opportunity to make the electric sports car a desirable and thrilling object (again).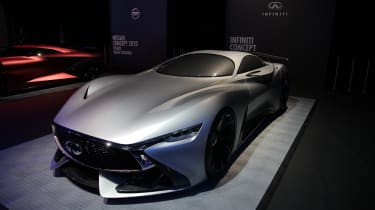 Infiniti design boss, Karim Habib, says the Prototype 10 takes its inspiration from single-seat competition cars, a not an uncommon notion at this year's Concours, but as you might expect does not preview a specific future model. 
The Prototype 10 follows Infiniti's last Pebble Beach concept car, the puzzling, but well received Project 9. Here, the Prototype 10 takes a less obvious retro route than the previous car. 
The more sophisticated, subtle and refined surfacing of the Prototype 10 does give us an insight into where Habib and his team see the future of Infiniti, and here the most obvious diversion from previous design studies is the lack of a radiator grille, real or fake. We'll get to see the car in the flesh at Pebble Beach, as well as a few other concepts from Mercedes and the new BMW Z4.