Jaguar F-type at Goodwood video
Jaguar has released this video, with on-board footage of the V6-powered F-type roadster driving up the hill climb at the Goodwood FoS.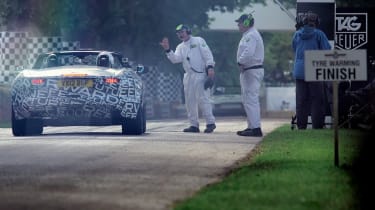 The Jaguar F-type has now been confirmed, and the company has been actively showing off the disguised roadster since the New York motor show earlier this year. The running prototype was seen driving up the hill in front of crowds at this year's Goodwood Festival of Speed, fitted with the company's new supercharged V6 engine.  
This video gives us an idea of what the new car will drive, and sound like. 
Read the full story of the upcoming Jaguar F-type here