Jaguar S-type 4.2 V8 R
Jaguar is back in the headlines this month, and this time for the right reasons. Finally it has revealed the car it should have built at least five years ago, probably a decade ago - a really cool-looking, driver-focused, competitively priced sports coupe with a bit of attitude, a bit of edginess about it. Quite why it has taken this long to produce something to get car nuts excited about Jaguar again is one of the biggest mysteries of our times - in fact right up there with why Jaguar pissed away all those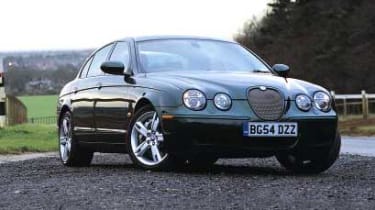 Jaguar is back in the headlines this month, and this time for the right reasons. Finally it has revealed the car it should have built at least five years ago, probably a decade ago - a really cool-looking, driver-focused, competitively priced sports coupe with a bit of attitude, a bit of edginess about it. Quite why it has taken this long to produce something to get car nuts excited about Jaguar again is one of the biggest mysteries of our times - in fact right up there with why Jaguar pissed away all those millions on F1 while the engineers were studiously developing diesel-engined front-wheel-drive X-type estates...
As someone who cares passionately about the Jaguar marque, it's been pretty bloody heartbreaking. Which is why I digested the news that I'd be running an S-type R with mixed feelings. I know it's a proper performance saloon, the 400bhp R, and one that collectively we rate very highly. But for many of us the generic S-type embodies a lot of what's been wrong with the company over the last decade - when the car was unveiled just over five years ago, it seemed to us that the shape was a mediocre pastiche of a near-40-year-old car, that the interior played it too safe, and that ergonomically and dynamically its Lincoln roots were showing. Sure, there have been a whole heap of detail improvements over the years, but an S-type...
What I'd forgotten was quite how much the S-type has been improved. It's a car that's crept up on the rails, its dynamics now so much tauter, its ride/handling so much more Jaguar. The most recent round of revisions saw a fairly effective nip and tuck, too, Ian Callum tautening the lines where he could to reflect the improvements under the skin.
And though I'll never be an uncritical fan of the S-type's lines, I reckon they've never looked better than in the shape of our new Jaguar Racing Green S-type R, which first scrunched its way into the car park just before Christmas. Riding on 18in 'Vulcan' alloys, hunkered down on its CATS suspension, and stripped of all the chrome tinsel that decorates less potent models, it looks pretty darn good. The inside story's a big improvement too. Subtle changes in the cabin architecture have made it feel more like a proper Jag; the charcoal hide with 'light sand' panels, and the etched metal facia and door trims (no burr walnut here) exude a feeling of proper sportiness, and the whole thing feels as tight as a drum.
The R's not a cheap car (long gone are the days when Jags undercut their rivals spectacularly). To the on-the-road price of a whisker under £50K, this one adds over four grand's worth of extras, including a fixed cell phone with voice activation, and adaptive cruise control. The mysteries of these, along with the standard-fit sat-nav, computer and multi-function memory for the 16-way adjustable seats, pedals and mirrors I will attempt to unravel in the coming months.
For now I'm happy to explore the supercharged V8's torque curve, which feels nicely plump, and savour the excellent ride/handling balance. Jaguar very kindly supplied BG54 DZZ with 1200 miles on the clock, which meant I didn't have to worry about running-in. In fact I've been enjoying the S-type R so much that it's already covered 4000 miles and feels properly loose. There's a buzz about Jaguar again, and I've a feeling the S-type R and I are going to get along just fine.
Running Costs
| | |
| --- | --- |
| Date acquired | December 2004 |
| Total mileage | 4018 |
| Costs this month | £10.99 (1ltr oil) |
| Mileage this month | 2811 |
| MPG this month | 21.5 |