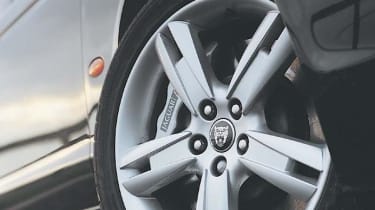 A memory comes back to me from the early '90s, of driving the then-new 3.8-litre version of the M5. I can vividly remember being blown away by the Beemer and, being a bit of a Jaguar fan, thinking: 'Wouldn't it be great if Jaguar made proper sports saloons again, a bit like the 3.8-litre Mk2 of the early 60s.' Well, today it does. It even looks like a Mk2.
And in many ways the S-type R is everything a sporting Jaguar saloon should be. Lots of smooth, easy power; effortless ground-covering; a supple ride and a snugly sumptuous interior with just the right degree of raciness. After all those years of elegant but rather toothless XJ saloons, I'm chuffed that there's a proper compact sports saloon with a Jaguar badge that we're proud to have on the fleet.
So how has it been, living with the S-type day-to-day? Terrific, actually, but with a couple of provisos. As road test ed Bovingdon commented the other day, it's a shame they don't fit a limited slip diff. Knock out the traction control, flatten the throttle in a low-speed turn or away from a junction and chances are you'll be treated to lots of wheelspin and not much else. Now, not everyone drives everywhere like young Mr B, but we all like to let our hair down from time to time. It would be nice to have the option.
The other flaw in the R's dynamic make-up is the response to the brake pedal. No doubting the power of the impressive-looking callipers and ventilated discs, but I don't want to be reminded of it every time I so much as touch the pedal. Such is the servo assistance that it's near impossible to feather the brakes, to bleed away a little speed, and if you like to drive smoothly, to measure out your inputs with a degree of sensitivity, it's a major irritation. Power, as someone once said, is nothing without control.
Running Costs
| | |
| --- | --- |
| Date acquired | December 2004 |
| Total mileage | 9356 |
| Costs this month | £0 |
| Mileage this month | 3131 |
| MPG this month | 21.8 |