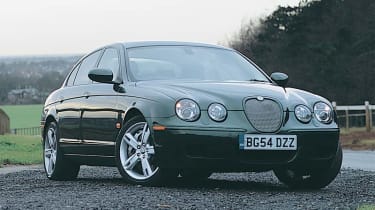 How many of the gadgets on your car do you actually need? How many do you actually use? Give me air-conditioning and a good CD player and I'm happy; weirdly, I don't even mind winding the windows by hand. Like Harry's Bee-Em, the S-type scores highly on the gizmo count, but do any of them actually improve the quality of my driving life?
Electric 'slide'n'tilt' sunroof? Never used it. Not even once. Television? Didn't even know it had one till the kids found it; I've used it once since, when stuck in a particularly life-draining traffic jam. Rain-sensing wipers? Patently ludicrous. Dark-sensing lights? Curiously, slightly more useful, but then they don't smear all the bugs on the screen into impenetrable crud every time a passing cuckoo clears its throat. Heated seats? If they're not toasty until ten minutes after I place my behind on them, what's the point? Parking sensors? More useful than I'd imagined, though this has a lot to do with the fact that all the car parks in Cambridge are bunged-up with stupidly big SUVs that don't fit the bays. Fixed cell-phone with voice activation? Too much of a fag to swap my SIM card over for anything but the longest journeys. Satnav? Useful but far from infallible - it once got completely flummoxed in north London, went quiet for five minutes, then led me back to the place I'd started from. Via the congestion zone, I later discovered.
Adaptive cruise control? It costs a hefty £1300 and uses a radar to scan the lane ahead and automatically slows the car if it spots traffic. It works, too; in fact it works so well it'll even slam the brakes on for you if someone pulls straight out into your lane. I can't help thinking, however, that scanning the road ahead for potential hazards is what the driver should be doing. Perhaps I'm just old-fashioned... Fortunately, among the Jaguar's many fine features are a fiercely efficient (though lately occasionally whiffy) air-con, and an excellent 'Premium Sound' hi-fi. With Long Wave, naturally.
Running Costs
| | |
| --- | --- |
| Date acquired | December 2004 |
| Total mileage | 16,504 |
| Costs this month | £0 |
| Mileage this month | 1939 |
| MPG this month | 22mpg |