Jaguar S-Type 4.2 V8 R
The Jag has now been back with us for more than a month since the prolonged investigation into its electronic epilepsy. It has also become clear why it was the best part of two months before Jaguar was happy to return it. But first a quick recap: the R's central locking was the first thing to go on the blink; later, while on the move, the car started to suffer from a sudden jolting sensation at the rear axle, as if the power was being cut abruptly; then it began refusing to start; and finally, after one par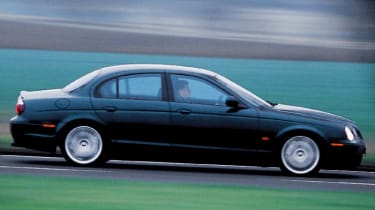 The Jag has now been back with us for more than a month since the prolonged investigation into its electronic epilepsy. It has also become clear why it was the best part of two months before Jaguar was happy to return it. But first a quick recap: the R's central locking was the first thing to go on the blink; later, while on the move, the car started to suffer from a sudden jolting sensation at the rear axle, as if the power was being cut abruptly; then it began refusing to start; and finally, after one particular fit, it locked the transmission in Park.
Sent to Coventry on the back of a recovery truck, the S-type became the subject of a detailed investigation by Jaguar engineers, who eventually traced the problem to a single damaged wire in the front-end wiring harness. The critical thing was, this wire was an electrical feed to two units that govern a range of vehicle functions, hence the various maladies.
Worryingly, the damage was found to have been caused by chafing under a front wheelarch, at which stage the chief programme engineer was called in. Enquiries within the dealer network revealed that 'a handful' of other S-types had suffered the same problem.
The engineers effected a modification, described by a Jaguar spokesman as 'one hundred per cent robust for the life of the vehicle', which will now be carried out on other S-types when they visit a dealership for routine servicing. Our S-type R was then subjected to a 500-mile road test before it was returned to us. And it seems to be absolutely fine.
So there you are. A fairly freakish fault, thoroughly investigated and resolved by Jaguar. Can't really fault them for that. But naturally it's dented our faith in the S-type. Confidence is slowly seeping back, but I'm not sure I'll ever think of it in quite the same way again.
Which is a pity, because it's a very long way from being a bad car. It's quick and refined and comfortable. It had also, up until it threw its wobbler, been 100 per cent reliable and painless to live with. As with all forced-induction engines, if you use the Jag's full performance the fuel consumption plummets to the mid-teens, but generally it returns low-20s. Oil consumption has been negligible. The original ContiSportContact tyres lasted for well over 20,000 miles - a replacement set went on last month at a pretty reasonable £630 from our friendly local tyre-fitter, Central Tyres of Wellingborough.
Good car, the R. Just a shame about that chafing...
Running Costs
| | |
| --- | --- |
| Date acquired | December 2004 |
| Total mileage | 25,182 |
| Costs this month | £630 (tyres) |
| Mileage this month | 1627 |
| MPG this month | 21.6mpg |