Jaguar XF SV8
Our Jaguar XF SV8 does everything well, but an XFR will probably do everything better!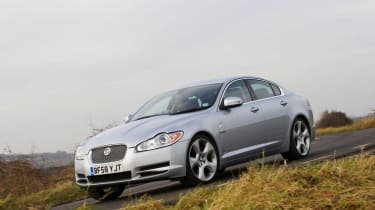 Every time I gun our SV8 I get a flashback to the XFR I drove last month. I still can't get over how much drive the new model found on a damp B-road in near-freezing temperatures. Same sized rear tyres as the SV8, the best part of 100bhp and 50lb ft more, yet it just hooked up and legged it. No fuss, no squirm and not even a flicker of the traction control light, just a solid, dizzying hit of high-torque acceleration.
I thought that the SV8 had as much grunt as the chassis could cope with, the traction and stability controls subtly managing the massive torque of the supercharged V8 when the tyres ran out of stick. Mercedes took the same approach with the old supercharged '55' AMGs, but BMW worked up the 'M diff', an electronically managed limited-slip differential, to find more drive, and now Jaguar has fashioned its own which, in part, gives the XFR its spectacular ability.
I love the SV8 but everything I love about it – the wonderful interior, the effortless performance, the lightness of touch to the ride and handling – is there in the XFR. I imagine not everyone needs or wants the XFR's 500bhp and the quietly harder edge that permeates it, and for them the spirit of the now-discontinued SV8 lives on in the new 380bhp 5-litre normally aspirated model. I don't need 500bhp either but, boy, do I want it. That's why I'm hoping to persuade Jaguar to swap our SV8 for a bright blue XFR…
Running Costs
| | |
| --- | --- |
| Date acquired | November 2007 |
| Total mileage | 6338 |
| Costs this month | £0 |
| Mileage this month | 2183 |
| MPG this month | 19.6 |