Jaguar XF SV8
Lousy weather has prevented too much exploration into the Jaguar XF SV8's handling capabilities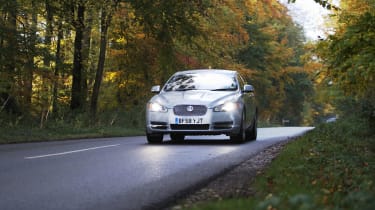 It's got lovely steering, the XF. Precise, ideally weighted and with decent feedback, but it's as much the car's responses that make it a stand-out feature. You turn the wheel and the car turns, the supple suspension calmly resisting roll so that there appears to be no slack, no hesitation, in the movement from turn-in to settled in.
I'm not so sure about the feel of the rear, though, which seems a little numb. Occasionally the power will twitch the tail, especially when the surface is wet, and the first you know is when the DSC (dynamic stability control) catches it. 
I like to get to the nub of things like this, to find out just what's going on, but the XF SV8 resisted all my intuitive attempts to disable DSC, so finally I admitted defeat and consulted the handbook. Turns out you have to really want it off – you need to press and hold the DSC button down for a full ten seconds. Jaguar recommends this setting only for when the car is wearing snow chains and is making its way through a deep, fresh layer of the white stuff, which paints a wonderful picture of a Scandiwegian driver drifting home trailing two plumes of powdered snow.
As I write I have still to discover just how the XF handles unassisted because the roads have been treacherously wet and icy. Not appropriate for exploration. A visit to the Bedford Autodrome might be the answer…
Running Costs
| | |
| --- | --- |
| Date acquired | November 2008 |
| Total mileage | 2546 |
| Costs this month | £0 |
| Mileage this month | 1361 |
| MPG this month | 19.7 |