Jaguar XFR-S video
Jaguar has released a video showing the new 542bhp XFR-S being driven very quickly, and slightly sideways, in the mountains. Watch it here...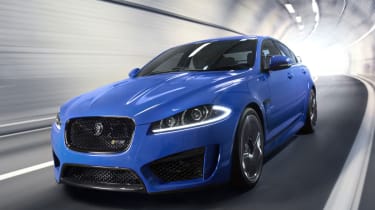 The new XFR-S has been revealed at the LA motor show, and to complement the launch, Jaguar has also composed a video of the most powerful Jaguar saloon ever made – using its 542bhp supercharged V8 to its full.
To handle the extra power, the suspension has been comprehensively reworked, with firmer springs and stiffer adaptive dampers. Some of the work has been inspired by the development of the new F-type sports car, with overall lateral stiffness up by around 30 per cent. The electronic differential and stability control systems have also been revised, the latter gaining a more lenient 'Trac DSC' mode, which can be seen in use on the video.
Read the full details on Jaguar's new super saloon here.