Beijing show: Jaguar XJ Ultimate edition
Jaguar's new supercharged V6 engine makes its début in the XJ Ultimate Edition, available in 335 and 375bhp form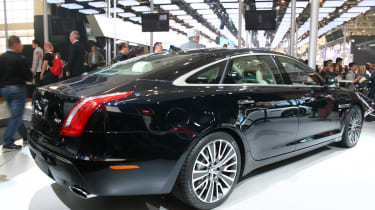 The 3-litre V6 that's set to power the F-type when it's launched in 2013 makes its debut in the most luxurious Jaguar ever, the XJ Ultimate Edition.
The new range-topper enjoys some serious luxury for market it's aimed at, with individually tailored rear seats, which have a Champagne chiller and aluminium billet drinks tray between them. Rear passengers benefit from integrated iPads and additional viewing screens in the rear of the front head restraints. Meridian Audio of Huntingdon has produced an audio system befitting this car's anticipated £100,000-plus price tag.
Outside, the Ultimate has new 20-spoke alloy wheels, chrome air intakes and stainless steel oval exhausts. The car comes with the option of the supercharged V6, available in 335 and 375bhp form (it's a China-friendly tax-option), and the familiar 5-litre V8 and 3-litre V6 twin-turbo diesel.