Jaguar D-type returns
A rare Jaguar D-type, unseen for more than 40 years, will make its public debut at the the Salon Prive Concours d'Elegance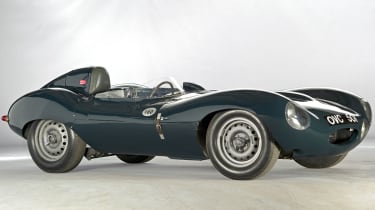 A 1955 Jaguar D-type will make its public debut at Salon Prive's Chubb Insurance Concours d'Elegance in September, after more than 40 years out of the limelight.
The D-type replaced Jaguar's C-type as the company's sports racing car in 1954. While early cars used a derivative of the C-type's 3.4-litre inline-six cylinder engine, its aluminium monocoque and subframe structure and aerodynamic forms were a radical departure, helping to secure wins at the Le Mans 24-Hour race in 1955, 1956 and 1957.
Chassis XKD523 had a rather different life, like one third of all D-types, having been sold to a buyer in the United States. The car's original owner lived in New York, but moved the car on after a disgruntled fellow racer at an event in Nassau put sand into the car's oil tank. It was saved by drag racer Joe Grimaldi who raced it for several years at circuits like Bridgehampton, Watkins Glen and Lime Rock, but the D-type's original engine became irreparably damaged during a speed record attempt at Daytona.
Grimaldi installed a Chevrolet V8 in its place, but subsequently regretted the decision, calling it "the worst mistake of my life". The car changed hands again, its next owner replacing the chassis but retaining the '523' designation, while the frame and several other components found their way to the UK.
For a time, two D-types existed with the '523' identity, but the UK owner managed to acquire the rest of the body and components in 2008 and rebuilt the car back to original specification.
XKD523 will join a selection of its stablemates at the Salon Prive event, as part of a celebration of 60 years of the D-type.
'Jaguar enjoys a magnificent road and race heritage and the D-type was pivotal in cementing this during the 1950s' said Tony O'Keeffe, Heritage Communications Officer at Jaguar UK. 'To see a class of them at Salon Prive is a real treat and their recognition of the 'D' in its 60th year bears testament to Jaguar and the designers of this iconic car.'
Salon Prive 2014 takes place from the 3rd to 5th of September, at West London's Syon Park. Manufacturers including Aston Martin, Ferrari, Rolls-Royce, Noble, Spyker and Tesla will also appear at the show, displaying their wares during the British Super Car Show on Friday 5th September.
Find used Jaguar D-Types for sale on the Classic and Performance Car site here.