Jaguar XK
The Jaguar XK keeps getting better and better, despite an ignition glitch and a wallet-lightening service bill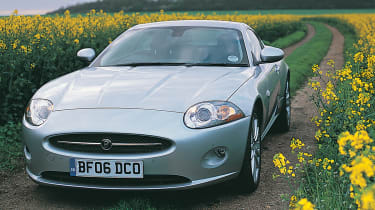 Slight frustration when I took the XK to Guy Salmon Jaguar, Northampton, for its 20,000-mile service. The staff were as courteous as ever and the car was gleaming from a complimentary wash and leather when I went to collect it, but they'd been unable to reproduce the intermittent starting glitch and therefore unable to cure it. I was, however, asked to fill out a questionnaire on the symptoms – seems that Jaguar is well aware of a problem with the electronics for the keyless ignition. To be honest it never gets any worse than having to press the starter button three or four times, and there are bigger things to worry about in the world.
Guy Salmon did refix the trim that had come adrift from the rear of the front passenger seat and they also supplied an S-type courtesy car for the day, so I drove away in good humour.
Then again, it's always good to climb back into the XK, and it seems to be getting better and better as the miles pile on. You have to keep the 4.2-litre V8 spinning above 3500rpm to get the best out of it, but do that (and with the quite brilliant paddle-shift auto it's hardly a chore) and it's every bit as quick as a modern-day E-type ought to be. I certainly don't find myself hankering after the supercharged XKR, though that's partly down to the fact that I prefer the looks of the standard car.
Apart from the not-insubstantial servicing costs (£252.82 for an oil change!) the XK is proving remarkably kind to my credit card. It doesn't use any oil – good job too when you consider the price of Mobil 1 (around ninety quid's worth of the stuff went in at the service) – there's still plenty of life left in both the tyres and the brake pads, and it regularly tops 25mpg. My old series 3 Jag XJ6 used to struggle to top 18mpg, so that's real progress for you.
There were dark rumours that Jaguar wanted the XK back before Christmas; fortunately we've been able to keep them at bay for the time being. But I was surprised how much my heart sank when I heard the murmurings. This is a fast, accomplished, great-looking Jaguar, a special car, and it'll be a real wrench when it goes.
Running Costs
| | |
| --- | --- |
| Date acquired | April 2006 |
| Total mileage | 21,920 |
| Costs this month | £252.82 (service) |
| Mileage this month | 1,460 |
| MPG this month | 25.7mpg |