Jaguar XKR (2008)
It cost nearly £60K new, but you could be driving one of these fast, comfortable, reliable British GTs for as little as £12k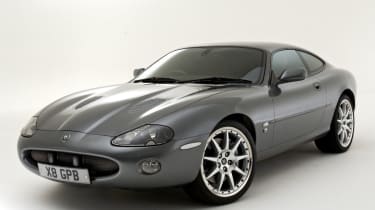 Can you really get a low-slung, cigar-sleek coupe with elegant curves, muscular haunches and a kidney-thumping supercharged V8 for twelve grand? Oh yes. If you don't believe us, just log on to AutoTrader.co.uk, select Jaguar, add XKR as your keyword and up will come the proof. Other websites have an abundance too. There are even convertibles for not much more, and if you're not afraid of a leggy example, you can bag one of these big cats for less than ten big ones.
It's all possible because Jags rarely perform well when it comes to depreciation. The XKR was almost £60K when new, and while the ravages of time have done little for the bank balances of the original owners, the cars themselves have proved to be generally reliable and, considering the performance on offer, cost-effective to run. Buy second-hand now, with the bulk of the depreciation done, and you're unlikely to lose a chunk of money yourself, especially if you seek out a previously cherished example and keep it in top condition.
Hunt around. It's a true buyers' market at the moment and there are some spectacular bargains to be had, particularly if you're happy with an unusual spec or colour. Find one not sprayed either silver or a traditional dark hue and you can virtually name your price.
The 400bhp, 4.2-litre XKR, which arrived in late 2002, will require deeper pockets, with prices now starting at around £17,000. They are worth the extra cash if you can stretch to one, but the 4-litre, 370bhp version launched in May 1998 shouldn't be dismissed. Back in the day we described it as 'lithe and adjustable', particularly if taken by the scruff of the neck. Its ability to devour monumental mileages without breaking sweat impressed us greatly too; as a GT package it was as accomplished as any other from the period. Now it's a first-class seat at a Ryanair price.
We can't think of a better way to celebrate the XKR's tenth anniversary than to have one sitting on your driveway. All you need to know to make the right choice is on the next few pages.
Evolution
Other than the introduction of the larger, 4.2-litre V8 for the 2003 model, there were only a few changes made to the XKR during its lifespan, which ran from 1998 through to 2005.
In 1999 the 'R Performance' option became available, creating the £66K XKR-R. It brought uprated suspension, 20in BBS alloys and enormous 355mm Brembo discs. September 2000 saw the XKR get new lights, trim and seats, and 2004 brought a new grille, bumpers and wheels.
There were two limited editions: the 'Silverstone' of 1999 and the XKR 100 in 2001. Both were loaded with options but remained standard underneath.
Find used Jaguar XKR's for sale on the Classic and Performance Car site here.
Useful contactsXK8/R Enthusiasts Club (Growler magazine), www.xkec.co.uk
Racing Green Cars (specialists), www.racinggreencars.com
Paramount Performance (specialists), www.paramount-performance.com