Most car manufacturers would be horrified at the thought of a bunch of unsympathetic, boorish journalists driving one of their development prototypes months before the car's official launch. These scruffy development cars have rattly interior trim, bad panel gaps and interim suspension components, so they don't exactly show the car in question in a flattering light.
It's rare to get anywhere near a new model before it's ready for production, but I've now driven the forthcoming Kia Stinger GT twice. Yeah I know, it's not as though I've wormed my way into Porsche's R+D centre and driven the 918 Spyder's all-electric, 3D-printed replacement seven years ahead of time (I'm guessing here), but having a couple of punts in the Stinger has still been worthwhile.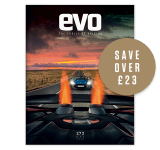 Subscribe to evo magazine
Subscribe today to have every issue of evo delivered straight to you. You'll SAVE 39% on the shop price, and get evo for its original cover price for a whole year!
It is a 365bhp, rear-wheel drive GT car, after all. The finished product won't arrive until the summer and Kia's engineers are still busy fine-tuning the chassis settings, stability control systems and a thousand other things, so I can't deliver any kind of verdict on the car. But having driven it first in Korea late last year and again a few days ago in Sweden (they're really making me travel for this one), I do know for certain that there's a lot to look forward to.
> Kia Proceed GT review - All-round appeal for a competitive price
Kia Stinger: drive number one, Namyang, Korea
Here's what I wrote after driving it, very briefly, at Kia's Namyang test centre: "The cabin feels spacious with a good, low-slung driving position and plenty of room in the rear seats even for taller adults. The car is very easy to drift – a long wheelbase, lots of power and a mechanical LSD will have that effect. Even in the firmer damper mode there's a fair amount of body roll, albeit a well-controlled sort of roll rather than the sloppy, wayward kind.
"The steering is crisp and direct, and what it lacks in absolute feel it makes up for in rate of response, which is very well matched to cornering grip and that pronounced body roll. Basically, it's easier to place the car into a corner than its size and weight might suggest. The engine feels strong and responsive, but it's done its best work by 6,000rpm."
Kia Stinger: drive number two, Arjeplog, Sweden
I came away encouraged and eager to have another go. That opportunity came in Arjeplog, Sweden, where just about every car manufacturer and component supplier on earth decamps to each winter to test their new kit in freezing temperatures and on low grip surfaces.  
Once again the opportunity was a brief taster rather than an in-depth road test. On a 250-metre radius steering pad on a frozen lake, though, I was able to substantiate those early impressions from Namyang. The Stinger really does have potential.
> Kia Optima Sportswagon review - Stylish looks; fun to drive?
The most interesting bit was cycling through the car's intriguing four-stage electronic stability control programme. The first stage, of course, is the full nanny state, groceries in the boot, everything on mode. There's so little grip on a frozen lake that any car will slip and slide a little, but by and large the electronic systems keep us in good shape and the back of the car pointing rearwards.
Several seconds later I switch into sport mode. Like in most sports modes this sharpens the throttle response and speeds up the gearshifts, as well as removing a layer of stability assistance. You can now feel the rear end step out under power by a few degrees before the computers trigger the brakes and kill the throttle to bring things back under control. On the road that'll let you enjoy the playful balance of a powerful rear-wheel drive car without the risk of becoming a reluctant YouTube star.
Press the stability control button once and you remove one more layer of assistance. The car will still use its brakes to try and keep itself vaguely in shape, but it now won't kill the throttle. That means it will spin if you overcook it or aren't quick enough with your corrective lock. You can hold long, lurid slides in this mode, but you're always battling against the safety nets a little.
Hold that button down for a few seconds and you'll turn everything off. That really means everything off, too. There's no 'wake up' function, so even if you spin three times and violently trigger the ABS while screaming in terror or repeating Hail Marys, the stability control will absolutely not switch itself back on.
That turns the Stinger into one of the most competent oversteer machines I've driven in a long time. Okay, that's not particularly relevant in the real world, but it does speak of a sweet natural balance, sharp throttle response and a limited slip differential that locks quickly and keenly.
Stinger GT: positive first impressions
Perhaps Kia will fly me to Death Valley in California next month, or to the Australian outback the month after, and I'll be able to tease you again by reporting something else about the Stinger's steering or its damper modes, or how effective the air conditioning is.
Or perhaps I'll just drive the production version some time in the summer and deliver a proper, detailed verdict. Anyway, it's one to look forward to because on the basis of those two quick drives I reckon the Stinger GT could be half decent.