Koenigsegg Regera planned for Geneva motorshow - even faster than the One:1?
Swedish car maker could have new flagship at show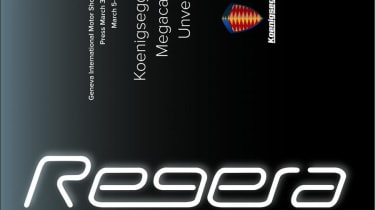 Koenigsegg could be planning an even faster car than its 1322bhp One:1, called the Regera. Set to be unveiled at the Geneva Motor Show next month, the Regera may also make an appearance alongside the just announced Agera RS, also due for launch at the Geneva show.
Regera translates as 'rule' in Swedish, hinting at the potential for the Regera to be a new flagship car from the brand. evo's Jethro Bovingdon drove the incredible One:1 back in the December issue.
Boasting 1322bhp from a 5.0-litre twin-turbo V8, the car has a claimed top speed of 273mph. Koenigsegg set out to produce a car with an identical power to weight ratio with the One:1 and it succeeded.
How exactly the Swedish hypercar marque could make an even faster vehicle remains to be seen, but it's entirely possible, especially given Koenigsegg's obsession with top speeds.
evo will be bringing you all the latest from the Geneva Motor Show as and when it happens, including the Koenigsegg unveil.