Lamborghini Aventador SV review – lighter, more powerful, more hardcore - MPG and Running Costs
The lighter, faster version of the Aventador delivers a truly thrilling supercar driving experience
MPG and Running Costs
In an effort to improve fuel economy Lamborghini has incorporated a cylinder shut-off function, which enables the V12 to switch off one bank of cylinders at a cruise. Firing on just six cylinders the car will maintain a steady speed on the motorway, but the moment you accelerate the dormant bank fires back into life.
Naturally, fuel efficiency is not the SV's strong suit and you'll struggle to match the claimed 17.7mpg. Around town the true figure will drop into the mid-teens, with high single figures more likely when you really push on. The Aventador SV owner should not be shy about spending money on fuel.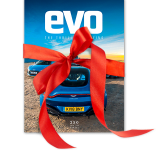 Subscribe to evo magazine
If you're passionate about the world's greatest performance cars, experience the thrill of driving with evo magazine. Try your first 5 issues for £5.
Similarly, tyre and servicing costs will seem astronomical to anybody upgrading from a lower specification performance car.