Land Rover LRX
Small Rangey, the LRX concept, has been confirmed for production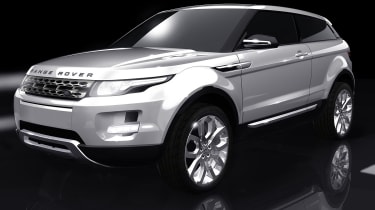 Land Rover has just announced that its sporty LRX concept will go into production. It'll be badged as a Range Rover, too, and be a natural step down from the Range Rover and Range Rover Sport.
It'll stay reasonably close to the concept, apparently, although plenty of Range Rover design clues will be present. That means the signature clamshell bonnet and floating roof, and potentially five doors. The RR Sport made the shift from three to five doors in its transition from concept to reality, but we'd rather like the LRX to stay as it is to breathe a bit more desirability into the small SUV class.
Designed and engineered at Gaydon, the LRX will be the lightest and most fuel-efficient product Land Rover has produced. The usual array of petrol and diesels from the LR Freelander are likely at launch, but a hybrid vesion has been suggested for production in the future.
Production will be at the Halewood plant, on Merseyside, the news of which comes the same day Jaguar/Land Rover has announced one of its Midlands factories will be closed within the next few years, though happily jobs are being created as part of the move and there's set to be no compulsory redundancies.
The production version of the LRX will make its debut next year, with a June 17 2010 unveil suggested as this will be 40 years to the day since the original Range Rover was first shown. Sales will begin in 2011.Follow evo Magazine on Twitter for the sports car latest
Read latest report on our Range Rover Sport long termer