Land Rover and Bowler announce official partnership
Bowler, the company behind the high-powered Land Rover-based Wildcat, has announced a formal partnership with Land Rover.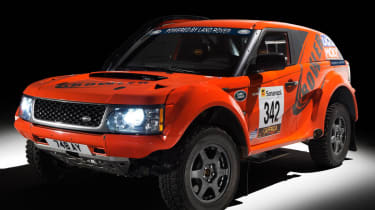 Bowler has been creating high-performance all-terrain since 1985, which have all been based around Land Rovers. The British company has recently announced that it has entered a formal partnership with Land Rover, and from now on, all Bowlers will be officially sanctioned and sponsored by the company – now wearing 'Powered by Land Rover' badging.
Bowler's latest model, the EXR, is loosely based around the Range Rover Sport, although not much remains of the original car. It can be bought as a fully-prepped FIA competition car. It's powered by a modified version of the 5.0-litre V8 engine, which produces around 300bhp.
The EXR is also available as a road car, a first for Bowler. It will cost in excess of £155,000, but for that money, you get a rather more potent 542bhp engine, capable of pushing the Bowler from 0-60mph in 4.2secs onto a limited 155mph.