On paper the Lexus RC F sits well rooted in between its super-coupe rivals. With 470bhp, a paddle-operated automatic gearbox, rear-wheel drive and a £60,000 plus price tag it could be part of the establishment.
> Read our review of the Lexus LC500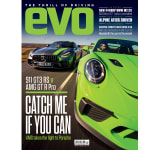 Subscribe to evo magazine
Experience the thrill of driving with evo magazine. Subscribe now and get your first 5 issues for £5 or buy the latest issue in all good newsagents!
Yet, although the RC F comes to the same conclusions as BMW's M4 and the Mercedes-AMG C63 S, it carves its own path and takes a very different approach to performance. The most obvious difference is its naturally aspirated V8 engine, but Lexus's unconventional attitude is apparent throughout the entire car; from its interior and exterior design to just how the buttons operate and feel. 
Lexus RC F in detail
Performance and 0-60 time – With a 0-62mph time of 4.5sec the RC F is certainly not slow, but its weight keeps it from being a class leader in pure numerical terms
Engine and gearbox – The control the naturally aspirated V8 grants you is unrivalled in this category, yet there isn't the screaming top end you might expect
Ride and handling – The RC F shows moments of brilliance, once you've adapted to its ways and you've got it in its correct setting 
MPG and running costs – With a 5-litre V8 and rear-wheel drive the RC F is going to accumulate a big fuel and tyre bills 
Interior and tech – Controversial looks but universally baffling to use any of its entertainment systems 
Design – Much like the interior the outside isn't loved by everyone, but you won't mistake the RC F for anything other than a Lexus
Prices, specs and rivals
The basic RC F costs £61,310 – a substantial amount, but on a par with its main rivals. The RC F Carbon costs an extra £8000, but for that you get a torque-vectoring rear differential (a £3500 option on the standard car) and an exposed carbonfibre bonnet and boot lid that cuts 15kg from the overall weight.
The Lexus's main super-coupe rivals all hail from Germany. The current class leader is the BMW M4 with the added Competition Package, and consequently has taken the title as our 2017 Coupe of the Year award. It's more aggressive than the Lexus; its engine, although not as controllable and down 26bhp, is rabid by comparison. Despite its power deficit the M4 is faster to 62mph by 0.3sec, that's mostly thanks to weighing 1560kg, 205kg less than the Lexus. The lighter weight is what helps the M4 feel sharper, more agile and more exciting.
> Find out what else won a title in our 2017 Car of the Year
Audi's new RS5 is a very talented machine, too. It has huge amounts of grip, a powerful and smooth engine, and a very well-damped chassis. It's perhaps not as immediately exciting as its rivals, the Lexus included, but there's a lot to be appreciated. With 444bhp, a 0-62mph time and a price of £62,900, the Audi is very competitive on paper.
If muscle and brawn are more your style, rather than precision and poise, then the Mercedes-AMG C63 S Coupe could be right up your street. Like the Lexus the Merc has a V8, unlike the Lexus though it has two turbochargers nestled within the banks of cylinders forcing air into the engine. As a result it makes 503bhp and 516lb ft of torque, so although it isn't much lighter than the RC F at 1725kg, it hits 62mph in 3.9sec. You pay for such pace though; it's £68,710.
> Supertest: C63 S v M4 Competition Pack v RS5
It may not be a coupe, as it only comes in saloon form, but don't discount the Alfa Romeo Giulia Quadrifoglio. It matches the Mercedes for power and acceleration, the BMW for precision and agility, and beats everything in terms of fun and on-road pace.