We've seen the Lexus RC before, but if you were put off by some heavy-handed details in the previous model then perhaps now is the time to revisit Lexus's sporty coupe: a mid-life refresh has given the front end in particular a more cohesive look.
There are changes elsewhere too, of course, from new options to a subtly re-tuned chassis. News of an update to the V8-powered RC F is scarce, so in the meantime we've got behind the wheel of the volume model in the range – the RC 300h hybrid.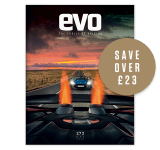 Subscribe to evo magazine
Subscribe today to have every issue of evo delivered straight to you. You'll SAVE 39% on the shop price, and get evo for its original cover price for a whole year!
Engine, transmission and 0-60 time
With a revised RC F not yet announced, it falls to the RC 300h to carry the RC badge into the second phase of its life. As you might have twigged from the 'h' designation, it uses a hybrid powertrain, based around a 2.5-litre Atkinson-cycle in-line four paired with an electric motor.
Lexus therefore quotes three different power outputs – 178bhp at 6000rpm (with 163lb ft of torque) from 4200-5400rpm for the petrol engine, 141bhp (and 221lb ft) for the electric motor on its own, and a combined system output of 220bhp at the sweet spot where both engine and motor are at their most effective together. Power is sent through an E-CVT continuously-variable transmission to the rear wheels.
As ever the motor also serves as a generator when decelerating, topping up the nickel-metal hydride battery pack to assist on the next acceleration run – something the RC 300h will accomplish in 8.6 seconds from standstill to 62mph. Top speed is curiously low for a car of this type, at 118mph, though realistically that's likely to be a problem for only a small handful of buyers.
Technical highlights
The RC's sharp looks contrast with a relatively porcine kerbweight of 1736-1775kg, depending on trim level. With new WLTP economy regulations the RC's parsimonious on-paper figures should be achievable however, at around 41-47mpg, also depending on whether you've gone for the standard RC, the performance-inspired F Sport, or the luxurious Takumi trim.
Lexus says the car's chassis has been tweaked for the facelift model, with stiffer suspension bushes, improved damping and re-tuned electric power steering, along with new tyres. The changes are designed to improve handling, roadholding and ride.
What's it like to drive?
It's fair to say that the 300h suits a different driving style to its V8-engined sibling, preferring a stroking to a stoking. Both its drivetrain and its chassis are at their best when not being extended to their limits, at which point the RC's dignified demeanour makes way for a feeling of being slightly out of its depth.
Chief culprit is the hybrid drivetrain. In the new front-wheel drive Lexus ES executive car it's not such an issue, but the RC's sporty styling does contrast with the way its hybrid setup delivers performance. Quantitatively there's only just enough of it, for a start, but qualitatively you'll find yourself craving a drivetrain that offers greater interaction and a more engaging soundtrack.
That's not to say it's a disaster – as CVTs go the RC's more gradual build-up of revs proportional to road speed feels much more natural than such systems used to, and Lexus's focus on refinement means the engine is never really that intrusive even at higher revs.
There are fleeting moments where it feels quite responsive, particularly in Sport mode where more motor-assisted torque is delivered with every prod of the throttle. But it's hard not to imagine what the RC might be like with say, a turbocharged V6, or even a hybrid-assisted V6 like that of the larger LC coupe.
We know the RC has a good chassis though, thanks largely to our exploits in the outgoing high-performance RC F. The tweaks Lexus has made for the facelift do give the RC a slightly more precise feel than before and the steering, while light, feels organic and precise, giving you confidence to press on.
When you do, the RC's limits quickly become apparent. In this hybrid form there's not much bite from the front tyres, the RC pushing into understeer fairly easily, while the car's safety systems are clearly set up on the cautious side, preventing any rear-drive shenanigans.
There's definitely a talented and balanced chassis underneath the RC, as there always has been – it's just not best experienced in this hybrid form. Treat it instead as a sharply-styled and wonderfully refined mini-GT though, and its comfort, silence and 50mpg potential (we achieved 53mpg with little effort on a busy Spanish motorway run) may be quite appealing.
Price and rivals
Lexus is unlikely to ever hit the sales volumes of its German rivals in the UK (it's aiming for just 450 cars a year), so it's better to think of the RC as an alternative to cars such as the Audi A5, BMW 4-series or Mercedes C-class coupe, rather than as a direct competitor. It's also likely that regardless of what you take away from this review, your initial choice will be the same as it was fifteen minutes ago – brand counts for a lot in this segment of the market.
Nevertheless, you don't need to search for long to find cars that match or exceed the RC's stats on-paper. BMW's basic 420i Sport will hit 62mph in 7.3sec for instance, with a claimed 42.8mpg combined – and all with a more engaging manual gearbox.
A C180 AMG Line coupe comes in at 8.5sec and 48.7mpg combined, also with a manual, and both the BMW and Merc are sub-£35k. Naturally, each creeps up in price when you specify an automatic gearbox, should a manual not be a factor, and with the German brands yet to confirm their post-WLTP economy and emissions figures, the RC may well have the edge as a long-term ownership proposition when it comes to fuel economy and taxation. Residual value too: low sales volumes mean the market won't be flooded with identical ex-fleet cars a few years down the line.