Lotus Renault GP Formula 1 car revealed
2011 Lotus Renault GP car gets John Player Special style livery. But it's not Formula 1's only Lotus...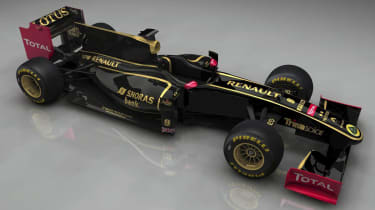 Renault has sold its shares in the Renault Formula 1 team after agreeing a sponsorship deal with Group Lotus, meaning it'll be known as Lotus Renault GP next season. But Team Lotus will continue to exist. Confused?
Both of the Lotus teams' cars will be powered by Renault engines, both will sport the iconic John Player Special black and gold livery, and both are owned by Malaysian companies.
The confusing situation started earlier this year when Team Lotus (previously called Lotus Racing) distanced itself from Proton-owned Group Lotus, claiming that the car company and the F1 team were historically kept separate so it had a right to use the Lotus name.
In October 2010, Renault sold its stake in its F1 team to co-owners Genii Capital, deciding to focus its attention on being an engine supplier.
Keen to get back involved with F1, Group Lotus then bought shares in the Renault team off Genii Capital and became a title sponsor.  Thus, the name has changed from Renault F1 to Lotus Renault GP.
Renault will continue to supply engines, technology and expertise to the team, and Lotus's title sponsorship agreement will continue until the end of 2017. The French manufacturer will also be supplying the engines for Red Bull and, of course, Team Lotus (the one without Group Lotus backing).
To Legard, Brundle et al, good luck commentating on this one next year.
Join evo's Twitter, Facebook and YouTube pages