Dany Bahar sacked by Lotus
Controversial Lotus CEO Dany Bahar has been sacked with immediate effect following an enquiry into his conduct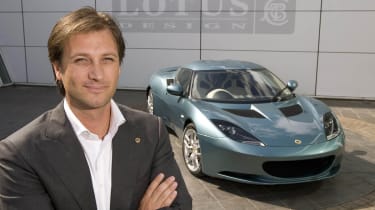 Lotus CEO has been sacked at the end of a two-week suspension while his conduct in his job was investigated by parent company DRB-Hicom.
No further details about quite why Bahar has been shown the door have been released, although it's been announced that Aslam Farikullah, one of the team put into Lotus by DRB to supervise the running of the company, will take over as Chief Operating Officer, effective immediately.
According to the official statement the decision 'was made by the board of Group Lotus PLC following the results of an investigation into a complaint made against him by the company's penultimate holding company, DRB-Hicom.'
Although hardly a surprise given his earlier suspension, the news confirms that Bahar's often controversial reign at Lotus is at an end. Prior to Lotus he worked for both Ferrari and Red Bull.
The question is now how much of Bahar's five-year plan for the development of new models will be continued by the company's new management.