New Lotus CEO revealed
A new CEO heads up Lotus as the British sports car maker looks to the future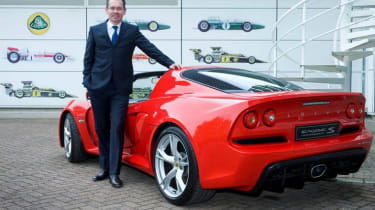 Lotus has announced Jean-Marc Gales as its new CEO. Leaving his position at the European Association of Automotive Suppliers, Gale brings with him a wealth of experience from a career that has included working at Peugeot Citroen, Daimler, General Motors and Volkswagen. He was behind the return of the Citroen DS badge, a move led by the debut of the successful DS3 hatchback.
With a proven track record that has seen the Luxembourgian increase sales to record levels at Peugeot Citroen as well as launching Citroen's DS line, the Mechanical Engineering and Management Masters graduate's arrival is part of a wider plan that the struggling British carmaker is implementing. It hopes to update its line-up of lightweight sports cars and increase its global business capabilities.
Parent company Proton's CEO, Dato' Abdul Harith Abdullah, welcomed Gales to the group. 'This is an exciting time for Lotus, and Jean-Marc's appointment could not have come at a more appropriate time, especially taking into account our plans for Lotus.'
Good timing it may be, because after receiving £10 million from the UK Government's Regional Growth Fund at the close of 2013, an apparent increase in global demand for Lotus cars and Gales' arrival will hopefully spur on development of more evo favourites like the hardcore Lotus Exige S and Elise Club Racer.