A-Z Supercars: Maserati Bora
Years before VW adopted the name, Maserati's Bora was this 177mph beauty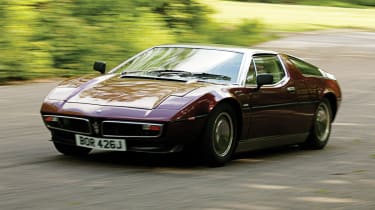 Maserati had enjoyed a golden age in the 1950s and '60s, both on the track and with high-performance GTs like the original Ghibli. But it wasn't until the early '70s that it produced arguably its first proper supercar.
The Bora, named after an energetic breeze local to the eastern Adriatic coast, was notable for being the first Maserati road car with its engine in the middle. Some engine it was, too: the gloriously bellowing 90-degree V8 from the Ghibli, initially with a capacity of 4.7 litres, then, from 1974, 4.9 litres.
Also pinched from the Ghibli was its designer, Giorgetto Giugiaro, who won out against Pietro Frua in the competition to clothe the Maserati flagship. An impressively solid piece of work it was, too, and not just because Giugiaro was pretty much at the top of his game. The Bora always managed to look heavy from any angle (it was), an impression heightened when the similar but much daintier V6-engined Merak followed a year after the Bora's 1971 launch.
Back in the 1970s, Maserati was owned by Citroën, so the Bora made use of the French manufacturer's hydraulic system to operate the brakes, pop-up headlamps, driver's seat adjustment and the adjustable pedal-box. It made for a rather odd old-school-brute-force-meets-idiosyncratic-French-tech driving experience, but that didn't stop it becoming a must-have set of wheels for the rich and famous. Customers included Karim Aga Khan and Sophia Loren's hubby, movie producer Carlo Ponti.
Sadly, after this 1970s flowering of special Maseratis, in the '80s it all went a bit wobbly with a succession of plain-looking, small-capacity turbos. But in recent years, with a little help from Ferrari, it has enjoyed another resurgence. And that tie-up has also given us the most spectacular Maser of all…Find used Maserati Bora's for sale on the Classic and Performance Car site here.
Specifications
Years made 1971-1978 Engine V8, 4930cc Max power 330bhp @ 5500rpm Torque 325lb ft @ 4000rpm 0-60mph 6.6sec Max speed 177mph Price £9862 new,c£70-£100,000 today