Now, this is more like it. A nice fat bolt of torque is propelling me out of a smooth, uphill right-hander at Fiat Auto's Balocco test track, the tail of the car edging outwards as the grip/drift balance tilts towards the latter. The sound-pulses of a free-breathing V8 spatter forth from the intake tract and a pair of fat, oval tailpipes – a fully formed voice of proper mechanical enjoyment. In my hands the steering wheel is sending messages of a force and focus concomitant with the masses and momentum of the moment. The Maserati GranTurismo S feels like – is – a proper car.
We've played out this story before. Maserati 4200GT? Looked lovely, went pretty well, but felt loose and artificial over bumps and into bends, with numb steering and soggy brakes. Then it mutated into the GranSport and suddenly it all started to work. No, it still wasn't perfect, but it was coherent and very good fun.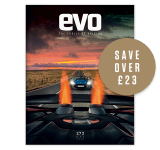 Subscribe to evo magazine
Subscribe today to have every issue of evo delivered straight to you. You'll SAVE 39% on the shop price, and get evo for its original cover price for a whole year!
And so to the GranTurismo. It probably didn't help that the launch event last year was up in the Tyrolean Alps, where the height and atmospheric pressure may have accounted for the GT's woeful lack of mid-range energy, but a deficit of usable torque and the weight it had to haul called for too much manic revving, happy as the engine was to oblige. The GT felt too big and unwieldy, too. Sunset Boulevard seemed a more appropriate habitat.
My thoughts weren't lone ones. Maserati's own engineers also saw the need for a harder-edged, punchier GranTurismo that could deliver the promise the regular car doesn't quite keep. Such a car would use the 4.7-litre version of the Ferrari-built but Maserati-specific V8 (just the unmachined block casting is shared with the F430), an enlargement we've already seen in the Alfa Romeo 8C.
And here it is, the GranTurismo S, complete with rear-mounted, sequential-shift, robotised-manual transaxle replacing the GT's ZF auto that's mounted on the back of the engine. Yes, the GTS reverts to Maserati's pre-torque-converter transmission architecture, albeit with improvements we'll get to in a moment. Shifting the mass rearward, meanwhile, makes an already slightly tail-heavy car a touch more so: 49/51 becomes 47/53.
But back to the engine. Capacity is up to 4691cc from the previous 4244, and the highest point of a much flatter torque curve is 361lb ft at 4750rpm (just under 300lb ft is on tap by 2500rpm), with power maxing at 433bhp and 7000rpm (a 34bhp increase). And it sounds great – provided you've pressed the all-important 'Sport' button, which bypasses part of the exhaust system and releases the final 10bhp. It also enables what Maserati calls 'MC-Shift' gearchanges; make a manual upshift with the revs over 5500rpm and the throttle at least 80 per cent open and, like Ferrari's F1-SuperFast system, MC-Shift overlaps clutch movements with gear engagement for faster shift times.
Sinews thus tautened, the GTS feels a lean, focused machine as I point it around Balocco's curves. The suspension is honed to suit, of course – it sits a little lower on springs five per cent stiffer, while the Bilstein dampers' bump stiffness is up by ten per cent (the front ones get extra rebound stiffness over this increase). The rear anti-roll bar is also thicker to help turn-in, and the whole ensemble is tuned to 20in wheels instead of the GT's 19in-optimised set-up.
Surely, I think as I thread through another twist, something has been done to the steering. 'No,' says test driver Eduardo Rossi, who has been watching my reactions. 'We thought we'd have to change the ECU programming that controls the weighting at speed, but we didn't, because of the damper changes.' Stiffer dampers load the steering more quickly, so there's more feedback. Simple.
The GranTurismo S feels a smaller, keener, more agile car than its softer sister. It should also have better brakes, having gained the uprated system from the Quattroporte Sport GT S, but those on this development car were fairly well done for after many testing laps. However, out on the road later the stiffer suspension exacted no obvious ride penalty. On the contrary, this Maserati felt more connected, more intimate. The gearbox works well, too, as well as any in any current Ferrari.
Visual changes are subtle - black grille and headlamp nacelles, extended sills, a rear lip spoiler, wheels with spokes like Maserati tridents. And those tailpipes. It looks better to my eyes; less bling, more functional. Here's the GranTurismo as it's meant to be.
Specifications
| | |
| --- | --- |
| Engine | V8, 4691cc |
| Max power | 433bhp @ 7000rpm |
| Max torque | 361lb ft @ 4750rpm |
| 0-60 | 4.9sec (claimed) |
| Top speed | 183mph (claimed) |
| On sale | Summer 2008 |