Mazda MX-5 Mk1 buying guide
The original MX-5 is huge fun, every-day useable, and, at around £1500 for a good one, very affordable.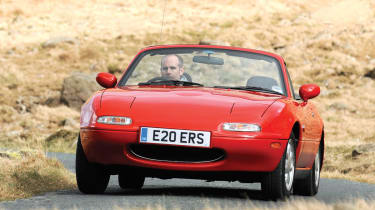 A mark one MX-5? Isn't that a bit old for an evo buying guide? Not really, because sometimes a car is so perfectly formed that age seems irrelevant. Apart, that is, from the deterioration that time can bring, which this guide will help you to spot.
An early MX-5 made the cut for our Ten Best Drivers' Cars test back in 2009 (issue 135). We also recently tested one newly fitted with BBR's reincarnated turbo conversion (evo 153), and loved it. And the best part is that you can now buy a very healthy, rust-free mk1 MX-5 for around £1500 and drive straight off into the sunset, top down of course, without a worry in the world. Bargains come no better than this.
Of course you see cars advertised for even less, but they will need work. At the other extreme, some specialist dealers will charge up to £4K for a really good example, and occasionally you'll see a timewarp low-miler for even more. That would be a great car to keep for posterity in a heated barn, but low mileage is not vital to an MX-5's wellbeing potential. At 100,000 miles the engine should still be in its prime, while continuing function at 200,000 miles is not uncommon.
Fine. But why would you want an MX-5, and in particular a mk1 (known as the NA model, after its Mazda production code)? Because it's that rare thing, an affordable open two-seater with rear-wheel drive, double wishbones all round, fabulous steering and chuckable handling, enough pace to keep you interested and a strong dose of the trad sports-car vibe. An MX-5 is, quite simply, a huge amount of fun, even if describing it as 'a Lotus Elan that works' is overstating the case (an Elan is much smaller and lighter).
And you'd have an NA rather than a 1998-2005 mk2 (NB) because it's purer, it's the original, it's a bit harder-edged and it looks a whole lot better. And as for the current MX-5, the NC, it's just a bigger, more grown-up car and lacks the NA's playful charm.
So, which NA? The main decisions are between 1.6-litre/115bhp and 1.8-litre/128bhp engines, and between UK-market Mazda MX-5s and grey-import Eunos Roadsters. The engine grew in 1994, five years after the MX-5's launch, and brought with it a longer-legged differential, bigger front brakes and bracing bars between the rear cockpit sides and under the rear axle to reduce (slightly) the MX-5's structural wobble over bumps. The bigger engine is torquier at low revs and a more relaxed cruiser, but shares the smaller one's ability to rev beyond 7000rpm with total smoothness. Note that post-1994 1.6s have just 88bhp.
The pundits used to insist that a UK-spec MX-5 is a better bet than a Eunos because it's 'official', but mechanically there is hardly any difference and a Eunos could well be better equipped – including, usually, air-con. Times have changed, and now a Eunos can be a cleverer buy because it will have spent the first part of its life in salt-free Japan. So you're more likely to find a rust-free Eunos, and prices are starting to reflect that fact. Identical rustproofing was applied to all MX-5/Eunos models, by the way.
One other specification decision concerns the steering. The MX-5 was designed to have power steering, and product planner, ex-journo and MX-5 co-creator Rob Hall has said that the non-PAS option with its slower rack, engineered in haste late in the programme for certain base models, spoiled the car's alert, incisive feel and evo's experience bears this out. If someone tells you the non-PAS car is 'purer', don't believe them. Oh, and you wouldn't want the Eunos's automatic option, would you?
Find used Mazda MX-5 Mk1's for sale on the Classic and Performance Car site here.
'I bought one'
Dan Trent - Motoring writer Dan has a 1993 Eunos, bought as a bit of a bargain last January with 67,000 miles on the clock. 'It had been on the dealer's forecourt for three months at £1500, so when I offered £1250 he nearly bit my hand off.
'I'd admired my brother's MX-5 and fancied something rear-wheel drive and cheap, with not a huge amount of grip. I like convertibles, too. This Eunos was the first one I saw, and it seemed a straight, honest car despite absolutely zero history, so I had a good fish around for rust. There was none.
'I figured I'd do some mods so I wasn't concerned about the suspension, but it turned out to be excellent mechanically. I got all the fluids and filters changed, plus the cambelt, discs, pads, braided brake hoses and a decat pipe, and then I just drove the nuts off it, including a 1500-mile road trip to Scotland.
'Since then it's been to Performance 5 for bolt-on frame rail strengtheners and P5 SportDrive springs and dampers. The rails make a dramatic difference, while the suspension mods improve the composure without diluting the feedback that makes it fun.'