The McLaren P1's exhaust - Art of Speed
Every detail on McLaren's P1 is designed for speed, none more so than the exhaust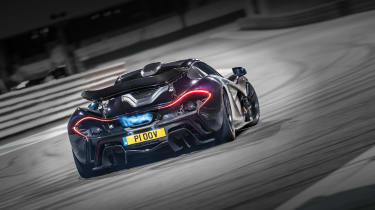 Good photo, isn't it? Dickie Meaden, who'd somehow found space in his diary to fly out to Yas Marina Circuit in Abu Dhabi and conduct evo's first drive of the mighty McLaren P1, may have been shifting up a gear, but it's more likely that a fleeting lift of the throttle to balance the chassis mid-slide was the impetus for a moment of rich-running. And suddenly you're sideways in a £866,000 blowtorch.
But maybe Meaden did neither. Trawl through online P1 footage and you'll notice that when it's not forming clouds or firing hot globules of Pirelli Trofeo R at tracking cars, it's spitting flames. In one extraordinary clip at the end of the video that accompanies this photo, it's as if someone has lit a firework, the exhaust ejecting an uninterrupted stream of fire as the car bolts flat-out down the length of an entire straight. Drive it as you should, then, and the McLaren P1 spends more of its time 'lit' than not.
Unbolt the clamshell at the back of the carbon body and you'll see why. The titanium mouth of the exhaust, gaping and central, is within touching distance of a 3799cc V8 flanked by turbos operating at 980C and 1.4bar; the tubing exits each of the engine's cylinder heads separately before merging and making arrow-straight for the open-worked rear of the car.
> McLaren P1 review - A worthy successor to the McLaren F1
The flame is the combined result of the enormous temperatures generated in the pursuit of the combustion engine's 727bhp and this truncated respiratory tract. Were the exhaust longer, the gases would have cooled further before entering the warm air of the Persian Gulf and instead oxidised with a yellow flame. On balance, sky blue is probably more in keeping with the P1's super-high-tech vibe.
There is, of course, more to the P1's pipe than histrionics. It's built in the style of a Formula 1 exhaust, and while that might not mean that McLaren will subtly lengthen it to give you a tad more torque on a trackday at Cadwell Park, it is made from Inconel, a nickel-chromium-molybdenum superalloy that's almost indestructible. Furthermore, the exit is so broad that McLaren puts it to good use, matching it to the angle of the rear of car and so creating an area of low pressure. When you've told the press that your new hypercar will develop 600kg of downforce at 160mph, every little helps.
And yet despite all this, the P1's exhaust was actually blinged down. The initial concept revealed at the Paris motor show in 2013 used gold-leaf heat shielding (McLaren allegedly ordered too many rolls from NASA for the F1 road cars), but this was ditched for the production version. We're sure it's nothing MSO couldn't reinstate – for a fee, naturally.
Image by Dean Smith