Mercedes-AMG C63 review – A proper Affalterbach hot rod - Mercedes-AMG C63 S vs rivals
Available as a Saloon, Coupé, Cabriolet and Estate, the C63 offers massive performance and your choice of style or practicality
Mercedes-AMG C63 S vs rivals
The Mercedes-AMG C63 S went head-to-head with the Audi RS5 and BMW M4 Competition Pack in a Supertest in evo 240. Read the online version of that Supertest here and subscribe to evo for all the evo Supertests in full.
Here's what we thought of the Mercedes-AMG C63 S against its rivals...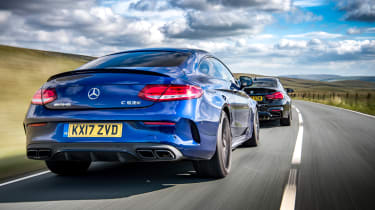 In the company of BMW's M4 and Audi's new RS5 that both use blown 3.0-litre six-cylinder engines  Mercedes-AMG's C63 S bruiser seems a little old hat with its V8, but that power plant is certainly the most aurally stimulating of the trio. It produces the most power but is comfortably the heaviest and with an interior that's showing its age and a £7500 price premium it might struggle against the M4 and RS5.
The AMG is undoubtedly rapid but its suspension struggles to keep the power harnessed and it can serve up heart-in-the-mouth oversteer moments if you turn the traction control off.
Weights, dimensions and performance data 
With more power than both the M4 and the RS5 one might have expected the AMG to be the quickest in a straight line but despite the fruity V8 bellowing its approval the Merc's 1847kg weight (50kg heavier than the RS5 and 200kg more than the M4) counts against it and it's only a tenth quicker to 60mph than the M4 and 0.7sec behind the RS5. The AMG's hard to get off the line cleanly too, like the M4 it scrabbles for traction.
Once it's hooked up though the AMG's V8 really delivers the goods and in the 0-150mph test it equals the lissom M4 Comp Pack for pace.
Lap time and track driving 
As any track regular will tell you the biggest enemy on track is weight so it shouldn't come as a surprise that the AMG was the slowest around Bedford Autodrome's West Circuit. In the final analysis the C63 S was 1.6sec slower than the RS5 and 2.2 adrift of the M4.
Partnership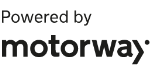 Need to sell your car?
Find your best offer from over 5,000+ dealers. It's that easy.
The AMG's main issue was putting the power down – with the traction control in its half way setting the system was reining the car in too much, with it off it's hard to extract the maximum from the car without lurid oversteer rearing its ugly head in the quicker corners. You have to be quick to catch it, too.
Supertest data and specs table
| | | | |
| --- | --- | --- | --- |
| | Mercedes-AMG C63 S | BMW M4 Comp Pack | Audi RS5 |
| Engine | V8, 3982cc, twin-turbo | Straight-six, 2979cc, twin-turbo | V6, 2894cc, twin-turbo |
| Power | 503bhp @ 5500-6250rpm | 444bhp @ 7000rpm | 444bhp @ 5700-6700rpm |
| Torque | 516lb ft @ 1750-4500rpm | 406lb ft @ 1850-5000rpm | 442 lb ft @ 1900-5000rpm |
| Transmission | Seven-speed MCT auto, rear-wheel drive, electronically controlled LSD | Seven-speed dual-clutch (option), rear-wheel drive, LSD | Eight-speed auto, four-wheel drive, electronically controlled rear LSD |
| Tyres | 255/40 R19 front, 285/35 R20 rear, Michelin Pilot Super Sport | 255/35 R19 front, 275/35 R19 rear, Michelin Pilot Super Sport | 275/30 R20 front, 275/30 R20 rear, Hankook Ventus S1 Evo 2 |
| Height/width | 1400mm/1877mm | 1392mm/1870mm | 1360mm/1861mm |
| Weight | 1847kg as tested (1725kg claimed) | 1645kg as tested (1585kg claimed) | 1799kg as tested (1655kg claimed) |
| Power-to-weight | 277bhp/ton using test-car weight (296bhp/ton claimed) | 274bhp/ton using test-car weight (285bhp/ton claimed) | 251bhp/ton using test-car weight, (273bhp/ton claimed) |
| 0-60mph | 4.3sec as tested (3.9 to 62 claimed) | 4.4sec as tested (4.0 to 62 claimed) | 3.6sec as tested (3.9 to 62 claimed) |
| Top speed | 155mph (limited) | 155mph (limited) | 174mph (optional raised limiter) |
| evo mpg | 16.5 (average over duration of test) | 21.2 (average over duration of test) | 19.6 (average over duration of test) |
| Basic price | £70,385 | £62,080 | £62,900 |
| PCP monthly price | £902 (36 months, £8000 deposit, 10,000 miles per annum limit) | £861 (36 months, £8000 deposit, 10,000 miles per annum limit) | £833 (36 months, £8000 deposit, 10,000 miles per annum limit) |