evo Magazine January 2015 - Mercedes AMG GT vs Porsche 911
AMG GT takes on 911 GTS, battle of the extremes: SLS Black v 911 GT2 RS on track and Audi TT faces rivals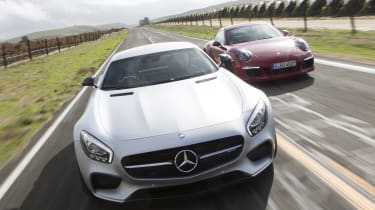 Mercedes AMG GT v Porsche 911 GTS
Jethro Bovingdon and Dan Prosser take Porcshe's new 911 Carrera GTS and Mercedes' new AMG GT north of LA to see which is best. The 911's the defending champion, the AMG GT's the new kid on the scene. But with a 503bhp V8, it's certainly got some muscle...
SLS Black v 997 GT2 RS
The heavyweights of Mercedes and Porsche return for a rematch in 2014 as Jethro and Le Mans legend Andy Wallace place them head-to-head. Conditions are slippery and heart-rates are high, but which comes out on top?
Audi TT group test
Audi's new TT has already received much praise, but with Peugeot's responsive RCZ R, Subaru's playful BRZ and Nissan's brawny 370Z up against it, David Vivian investigates if it can really be the drivers' choice in this class.
40 Years of Tamiya
It's been forty years since the first Tamiya RC car went on sale. Antony Ingram puts the remote controller down to examine why the Japanese firm has enjoyed so many years of success.
My first evo car
We invite seven first time evo car owners to Bedford Autodrome to talk racing, camber and lift-off oversteer. Sam Sheehan bothers them all to find out why driving is their passion before letting them loose on the West Circuit.
Continental V8 S in Croatia
Henry Catchpole drives a V8 S along the Dalmation coast on his quest to find the world's greatest driving roads. Snapper Aston Parrott risks his life to get 'the shot' on the cliffs...
Race of Remembrance
Having recently passed his ARDS, Dan Prosser tries his hand at racing in the WWI commemorating RoR. The MX-5 has no roof, Prosser gets wet.
New cars driven
Ferrari 458 Speciale A
Nissan 370Z Nismo
Jaguar F-type Coupe
Mini Cooper SD five-door
Revo Golf R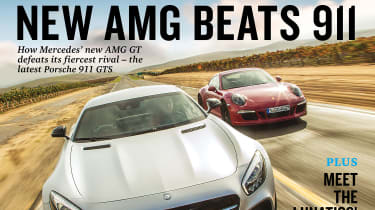 News
Jaguar finally adds a manual gearbox to the F-type, along with the option for AWD too. We visit Prodrive's Banbury HQ to poke around its new Golf SCRC rally car and Audi previews its high-tech design future.
Columns
Meaden suggests VW as a possible saviour for struggling Lotus, Porter can't stand car design flaws in this day and age and Franchitti joins in with our recent RC car based daydreams.
Letters
Readers write in with high praise for evo Car of the Year 2014, and comment on Mazda's courageous decision to go light with its MX-5.
Long-Term tests
Prosser swaps the Corsa VXR for a 'cat-magnet' BMW M4, Nick Trott explains why his expensive Porsche overhaul was worth it and Sam Riley's Golf GTI goes LaFerrari hunting.
evo Knowledge
We consider the original Vauxhall Astra VXR in our buying guide, and are tempted by a rare Alpina Roadster S drop-top and fast four-wheel drives in the classifieds.
Art of Speed
You could say the part that best sums up why the M3 CSL is so special is its carbonfibre airbox. Lightweight, complex and downright cool, the big carbon lung is this month's detail of choice.