Mercedes CLS 350 CGI: Mercedes CLS 350 CGI
David Vivian is getting bad vibrations from his Mercedes CLS. It's either a steering problem, or he's just imagining things...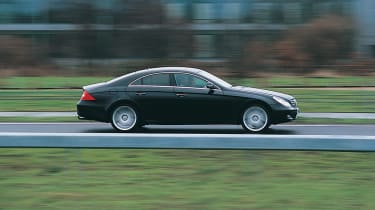 Don't know, think I may be going mad. After the exquisitely subtle but deeply irritating, now-you-hear-it, now-you-don't driver's door tizz, and the brake rumble that came out of nowhere and vanished just as quickly (read the May report here), the CLS is now taunting me with what may (or may not) be a steering, or possibly driveline, vibration. Again, it's as subtle as hell – a kind of granular feedback felt more through the steering than the seat of the pants – and it seems to check in at precisely 83mph. Mostly (but not always) on the M2 coast-bound.
See what I mean? It's the sort of thing that can induce paranoia. I suppose it could be that, as things bed in, the Merc's steering is just that bit more sensitive to road surface changes. But I don't think so.
Anyway, I'm letting designer Neil Carey have the car for a few days so he can drive his best mate to his wedding in style. Not Neil's wedding, his best mate's. If he doesn't mention it, I'll know it's just me.
As I mentioned before, the trouble with a car like the CLS is that it's such a smooth and all-but-silent operator, you tend to home in on the little things. Perhaps they're there in the CLS 63 AMG as well, but you'd be too exhilarated or scared to notice…
One more thing. I think the CLS looks fabulous in black. So, it seems, does everyone else. No problem, it just makes life a bit more interesting when you see your car in a different colour. I never do.
Running Costs
| | |
| --- | --- |
| Date acquired | December 2006 |
| Total mileage | 4896 |
| Costs this month | £0 |
| Mileage this month | 1349 |
| MPG this month | 28.5mpg |