Ride and handling
In a world where 700-or-so bhp supercars are now relatively normal and all-wheel drive hatchbacks can hit 60mph in sub 4sec, there's a risk that even a 600bhp supersaloon could feel ordinary. That is not the case. The E63, even in its most sober guise, the non-S Estate, is astoundingly fast. It makes such effortless progress down A-roads and motorways, but is then explosive and energetic on twistier tarmac.
Its real potency can be attributed to its engine. There's masses of low-down grunt, typical of a forced-induction motor, that the whole car never feels as heavy as its quoted figures when you accelerate. What's not typical of a turbocharged engine is that there's very little turbo lag. You don't have to be wary that there might be a heap load of unexpected power unleashed moments after you press the throttle, instead the delivery is linear and practically instant.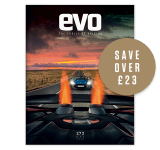 Subscribe to evo magazine
Subscribe today to have every issue of evo delivered straight to you. You'll SAVE 39% on the shop price, and get evo for its original cover price for a whole year!
The rest of the E63's pace can be put down to its fantastic traction afforded by its (some might say controversial) four-wheel drive system. But although there's grip when you need it, don't think the E63 is like other German all-wheel drive super saloons and estates - it isn't. The E63's 4Matic drivetrain has been very cleverly calibrated to not feel very all-wheel drive on the road, with real throttle adjustability right at the apex of a corner helping it rotate just enough as you squeeze the accelerator. Only once things get a bit squirrelly on the exit, when you actually want some help, do you really sense the front wheels helping drag you straight.
> 50 years of AMG – history and best cars of the Mercedes tuner and race team
The engine's delivery combined with the drivetrain makes the E63 an incredibly confidence inspiring and natural car to drive quickly. The steering, although it doesn't exactly chatter with feedback, is crisp, fast and allows you to react appropriately to the chassis, further helping you tune into driving the car. Not only is the E63 far more alert and agile than you'd expect of a car of this size, it offers up a thoroughly enjoyable, deeply involving and exciting drive.
Thankfully, no matter which model you choose in the E63 range, the driving experience is very similar. The extra weight of the estate barely makes a difference to the way it corners or accelerates, mostly thanks to the masses of performance available.
The difference between the regular car and the S is more noticeable. The bigger wheels, and therefore lower profile rubber, make it feel as though it's riding on tyres inflated to 50psi. However, the body control remains fluid while in Comfort mode. But just like the non-S cars it tightens up significantly when the dampers are stiffer without affecting the ride too badly. That is until you choose the firmest dampers at least, which are only appropriate on the smoothest of European roads or race tracks.
Of course, the S's party trick, its Drift Mode, makes it feel very different to the regular car once you've engaged it. The rear tyres are so willing to break traction that, despite its long wheelbase, it snaps into a slide as soon as you touch the throttle. Once sideways, however, the long E63 feels far more controllable, the engine feels as though it could spin the wheels forever and the reactive steering just helps you keep it at what ever angle you desire. It's deeply childish and totally unnecessary, but wonderfully good fun.