The Mercedes 190E 2.5-16 Evo II's bodykit - Art of Speed
Take a tame-looking Mercedes saloon, add an extreme aero-kit. Result? Madness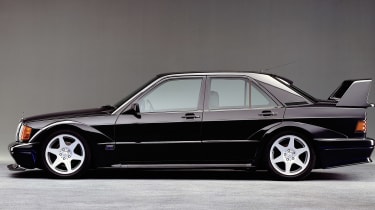 There are homologation cars, and then there are homologation cars. Aston's DBR9 might have two Le Mans class wins to its name, but the luxurious road cars are hopelessly neutered by comparison. The DB9 was also a huge commercial success and you could even buy one with an extended warranty. Hardly the stuff of the legend, is it? Lancia, meanwhile, screwed together 200 Delta S4 Stradales through gritted teeth because that's what it took to compete in a series so unhinged it was quickly banned. Extended warranty? Er, yeah…
The Mercedes 190E 2.5-16 Evolution II sits somewhere in between. Sure, it's rare, but with 502 examples built by AMG in 1990, it doesn't qualify as 24-karat unobtanium. Relative to the championship-winning DTM bruiser whose existence it sanctioned by acting as a homologation base, it was also depressingly tame, weighing 1340kg with 232bhp at 7200rpm. That sounds quite promising, until you realise the racer weighed 980kg and made 367bhp at a skull-numbing 9500rpm. The road car's wood-trimmed interior was also incredibly plush – way too plush to be cool.
The brilliant thing about the Evo II, though, is that you wouldn't know any of this by looking at it, because it shared the race car's whopper of a bodykit. Group A aero homologation rules and Mercedes' determination to slap down the BMW E30 M3 Evo made sure of that, and the result was not only a very good touring car, but a level of malevolence hitherto unseen in the marque's subdued showrooms. Hands tied, AMG had been given no choice but to build arguably the most frightening road car in history. Painting it black – Blauschwarz, to be precise – was purely gratuitous.
Concocted by the (possibly) mad genius Professor Richard Eppler at Stuttgart University, the glassfibre bodykit was far more nuanced than its oil-slick cubism suggested. The front splitter, so precariously low but mitigated somewhat by the car's changeable ride height, was adjustable. The upper portion the rear window also wore a plastic bracket designed to corral air towards a wing with a manually adjustable trailing edge, and the spoiler beneath was similarly adjustable.
What weren't adjustable were the wheelarch extensions, which tapered at the rear and framed 17-inch Speedline wheels to brutal effect. They were, and still are, crucial to the enormous appeal of the Evo II, because without them the wing would look ridiculously overbearing. And without the wing, well, what you're left with is an Evo I – an impressive but altogether less awe-inspiring homologation beast.