Mercedes has officially revealed the interior of its new S-class saloon. The all-new model is not just another new model to come out of Mercedes's seemingly endless range, but a core model that both tops the contemporary range and acts as a viewfinder ahead to the next generation of Mercedes-Benz models. 
There's been plenty of speculation about what the new S-class's interior would look like, but with these official images we can see Mercedes will introduce a whole new interior architecture and aesthetic defined by clean surfaces and large elements of digital interface. It's undeniable that for better or worse, the future of the future is this sort of digital interface, which in the new S-Class is dominated by a reoriented 12.8-inch portrait OLED infotainment display that forms both the main digital interface for media and navigation, as well as sole control for the ventilation and safety systems.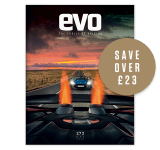 Subscribe to evo magazine
Subscribe today to have every issue of evo delivered straight to you. You'll SAVE 39% on the shop price, and get evo for its original cover price for a whole year!
> New Mercedes-AMG E63 S launched to rival 2020 BMW M5 Competition
This main interface is joined by a secondary driver's instrument cluster that's placed between the steering wheel and huge head-up display housing. While a digital driver's display is nothing unusual in 2020, Mercedes has gone one better by giving it a three-dimensional aspect for the viewer that does without the need to wear any glasses. The system works by tracking the driver's eye movements and arranging the pixels of the OLED display in such a way as to give the screen a depth of field. Very clever. This is supplemented with an augmented reality head-up display, if the multiple feet of digital real estate wasn't already enough.
In order to further improve safety, it will also be the first car to feature airbags in the front seat backrests, providing more safety for rear occupants in the event of a severe frontal collision. The S-class will also feature an airbag between the front passenger and driver, designed to prevent contact between occupants in an impact. Other safety tech includes the use of its suspension to raise the car before an impact, with illuminated belt buckles also making an appearance.
While this sort of tech might sound unnecessary to some, it's worth noting that the S-class has typically been a pioneer of groundbreaking tech throughout its long history, and generally the car that previews the type of interior tech and aesthetic the rest of the Mercedes range will follow in the next seven to ten years. This new S-class will not be any different, leading the way forward for Merc's design and technology advances.
Something new for not just the S-Class, but the car industry as a whole, is a system called 'Interior Assist', which uses overhead cameras to predict the actions of its occupants. Should the driver look over their shoulder towards the rear, for example, it will automatically open the sunblind. This feature comes as part of the brand's overhaul to its MBUX system, with 50 per cent more processing power than before, high-speed, high-capacity storage and over-the-air updates.
Since its midlife update, the current S-class, along with an increasing number of other Mercedes models, has only been available in AMG-Line form in the UK – a derivative seen in these images that still hide away the entirety of the new S-class's exterior design.
What gives the sportier trim line away is the S-class's bulked-up front and rear bumpers, and a new set of more substantial side skirts. While not ostensibly different to other S-class models, it certainly gives the new body more aggression compared to the more understated prototypes seen before.
As well as revealing those details, this is also our best look yet at Merc's new flagship saloon as a whole, which will take a subtle evolutionary approach to its exterior styling and detailing. Mimicking a feature of the new A-class and its derivatives is a surfacing technique that reduces the amount of hard lines to just two: one on the lower section of the doors and another, more accented crease running right the way from front lights to rear and under the windowline.
New details such as the flush-fitting door handles and slim, complex LED rear lights also have revealed themselves for the first time. S-class purists will be glad to see the traditional slat grille has remained, even on this AMG-Line car, which now has a more rounded overall shape and is lower down on the nose. The slim LED lights that flank the new grille might still be shrouded in camouflage, but we can see the ornate lighting fixtures that reside inside.
Mercedes-Benz has also revealed that the new S-class will feature rear-wheel steering, with an impressive steering angle of up to 10 degrees reducing the turning circle to under 11 metres - the rear wheels can also turn with the fronts at speed for improved stability
The new S-class's powertrains remain unknown, but expect a heavy emphasis on electrification split between mild- and plug-in hybrid variants. AMG models will also be offered in V8 form, but it's unlikely that a V12-powered S65 will return thanks to the low take-up of the previous model, not to mention the pressure to reduce the company's overall fleet CO2 average post-2021. Rather than offer an all-electric version of the next-generation S-class, Mercedes will instead reveal a bespoke electric luxury saloon under the EQS name that sits on a bespoke EV platform. As well as having its own mechanicals, the EQS is also expected to introduce its own aesthetic, driven by radically different proportions that arise from its all-electric underpinnings.
The all-new S-class will be revealed later this summer, with sales to start sometime later in the year. As is usually the case, expect core diesel and plug-in models to be released first, with more derivatives arriving throughout 2020. The EQS, meanwhile, is expected later in 2021.