Mini production in Asia
Mini will produce the Countryman in Malaysia and Thailand, but there are no plans for manufacturing in China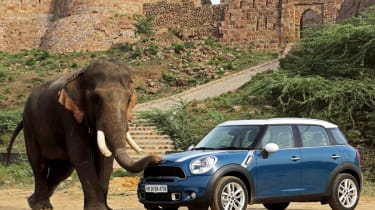 The Mini brand continues to spread its wings, with local production of the Countryman set to begin in two Asian countries this summer.
The baby SUV will be produced in both Malaysia and Thailand for local markets, using parts supplied from Europe. The Mini Countryman is already built in BMW's Chennai plant in India, and has been identified as the car to take the brand into developing markets with poorer road surfaces. Mini sales have expanded dramatically since BMW launched the first of its 'Binis' back in 2001, and are set to grow further when the third generation hatchback is launched in Europe next year.
That car will be produced at the Cowley plant in Oxford, and also at the former Mitsubishi 'Nedcar' plant in the Netherlands, with a new generation of three-cylinder engines supplied by BMW's Hams Hall plant near Birmingham. The first-generation Countryman will continue in production for several years, built both in Austria and also – via exported kits – in Asia.
But a senior Mini executive has also denied reports that the company has any plans to produce cars in China in the short term, due to the bureaucratic complications of getting approval for the launch of a new brand in the People's Republic. 'It's not feasible,' he said, 'it will take years.'