Audi A1 Quattro vs Mini JCW GP, Ford Focus RS500 and Renault Megane R26.R
The four-wheel-drive Audi A1 Quattro and new Mini GP battle the Megane R26.R and Focus RS500 on road and track.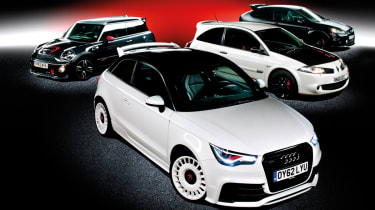 Hot hatches have been a high-performance staple for almost as long as the mid-engined supercar. So, while we can all fantasise about owning Ferraris and Lamborghinis, the not-so-humble hot hatch has allowed generations of regular Joes to experience brilliantly resolved, genuinely exciting and truly special cars. Tellingly, even those fortunate enough to afford poster car exotica (that's Harry, in case you were wondering) also get their kicks from pint-sized front-wheel-drive fizzers.
It's therefore a source of constant delight to me that the hot hatch breed continues to thrive. Better still, advances in engine, tyre and electronic technology means they've been getting hotter and more extreme. And more varied too, thanks to divergent philosophies that have led some brands in the pursuit of power as others chase the noble cause of increased performance though reduced weight. Throw in the freedom afforded by low-volume runs of factory-built skunkworks specials and you find that the hot hatch is enjoying a golden age.
Search for your dream hot hatch on evo cars for sale
This much is abundantly clear to me as I meet evo staffer Stephen Dobie, 'fresh' from his three-day drive back from the new Mini John Cooper Works GP's international press launch in Portugal. I should state up front that I'm not a big fan of the regular JCW Mini, thanks to its loose and ragged on-limit handling. Despite this, it's hard not to fall in love with the notion of a factory-built Mini that's so committed to speed – and Nürburgring lap times – that it jettisons the rear seats and runs coilover suspension. I'm not so sure about the graphics, but there's no arguing with the intent or the anorexic 1140kg kerb weight of this ultimate go-faster Mini.
My run home from the rendezvous with Dobie takes all of ten minutes, but as the route includes four roundabouts, two motorway slip roads and a short squirt of country lane, at least eight of those minutes involve me driving like a complete tit. It's an intense, manic dash that leaves me ever so slightly punch-drunk. It's certainly a thrill, and the GP immediately feels more deliberate and targeted in its edginess than the regular JCW, but a few doubts swirl around with the adrenalin. Will it be too much?
Partnership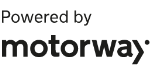 Need to sell your car?
Find your best offer from over 5,000+ dealers. It's that easy.
We're heading for the right place to find out, for not only do we have a day put aside for road testing on the uniquely challenging tarmac of north Lincolnshire, but we also have a day booked at Blyton Park, venue for last year's eCoty track battles. It's safe to say that owners of extreme hot hatches such as the Mini GP – and the three rivals that will be waiting for it – are going to fancy the occasional trackday, so our on-limit findings and flat-out lap times will be as revealing as they are fun to extract.