Audi A1 Quattro vs Mini JCW GP, Ford Focus RS500 and Renault Megane R26.R - Audi A1 Quattro vs Mini JCW GP, Ford Focus RS500 and Renault Megane R26.R: Verdict
We know how good they are on road and track, but which hot hatch is the most extreme? Here are the results...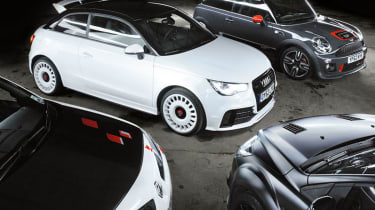 All four of these cars are 
extreme in their own way. But which wins? If your name's Harry Metcalfe, it's the Audi A1 quattro. That thud you just heard was my jaw hitting the ground. Still, we'd best hear him out: 'OK, it costs way too much, but it's beautifully screwed together, lots of fun, super-quick across the ground and you could use it every day.'
I get where HM is coming from – it's a hugely impressive and very enjoyable car – but an extreme hot hatch? No way. It either needs to wear an S1 badge and cost at least £10k less, or have another 50bhp and a heap more attitude. As it stands, the concept is undoubtedly extreme but the execution is so polished it feels like it should be in series production.
Search for your dream hot hatch on evo cars for sale
Polished or mainstream are not words I'd use to describe the Ford Focus RS500. Like that mate who always has a few too many drinks then gets involved in a fight, you know things are always going to get out of hand. It's a wild, yobbish creation, but it goes like stink and sounds epic. Ultimately its weight, propensity for exaggerated transitions from understeer to oversteer and traction issues make it feel like a blunt instrument in this company. Fun but flawed, it shares third place with the A1 and – in the context of this test only – gets demoted by half a star from its regular five-star rating.
The Mini GP is a grower. At first it feels too hyped-up, too aggressive, too contrived. Then you have a mad few miles in it and you're absolutely buzzing. It really takes some hanging on to on tricky tarmac, and is undoubtedly too much for some roads and some tastes, but it's this brazen commitment to a totally uncompromising style of performance that is the core of its appeal. In a test of extreme hatches, this puts it ahead of the softcore Audi and the confused Ford.
Partnership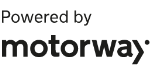 Need to sell your car?
Find your best offer from over 5,000+ dealers. It's that easy.
That leaves the Renaultsport Megane R26.R. Harry loves Renault hot hatches but has never been a fan of this car. A relative lack of power and a kerb weight that doesn't quite reflect its carbon-this and plastic-that construction are semi-valid gripes, but I (and most of my evo colleagues) contend that the end result is about as sublime as a front-drive car can get. The way it excels on track yet copes so well with even the most lumpen roads reveals its true dynamic depth, and the way it wrings every last molecule of pace from a modestly powerful engine is magic. It has feel and poise wrapped in a package of such purity it deserves that inevitable comparison to a GT3 RS. The Mini GP runs it close, but the R26.R remains without peer.