Mitsubishi Evo v Subaru Impreza
They're back, but are the new Impreza and Evo as good as the cars they replace?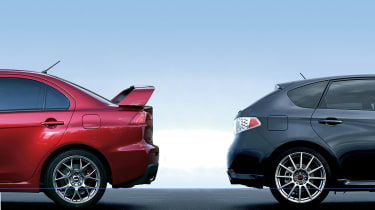 The Mitsubishi Evo is a high-performance car for 'our' generation; an attainable, down-to-earth antidote to supercar elitism, and a car with such a powerful cult following that this boxy Japanese saloon has risen from Far Eastern obscurity to drivers' deity in little more than a decade.
As for the Impreza, well it doesn't look much, but then that's not unusual with Imprezas – the 'bug-eye' Impreza had a hasty restyle almost as soon as it went on sale – and in a few months we'll all be warming to the slightly gawky face and podgy profile of the newcomer. In fact, let's all save a lot of heartache and agree right now to give in to the creeping inevitability that pretty soon the new Impreza will look, well, half decent.
How do they stack up? Let's find out.
Comparison
| | | |
| --- | --- | --- |
|   | Subaru Impreza S - GT | Mitsubishi Evo X |
| Engine | Flat-four, turbo | In-line four-cylinder, turbo |
| Location | Front, longitudinal | Front, transverse |
| Displacement | 1994cc | 1998cc |
| Bore x stroke | 92 x 75mm | 86 x 86mm |
| Cylinder block | Aluminium alloy | Aluminium alloy, wet sump |
| Cylinder head | Aluminium alloy, dohc, 4v per cylinder, variable valve timing | Aluminium alloy, dohc, 4v per cylinder, variable valve timing |
| Fuel and ignition | Electronic engine management, multipoint injection | Electronic engine management, sequential multipoint injection |
| Max power | 260bhp @ 6000rpm | 276bhp @ 6500rpm |
| Max torque | 250lb ft @ 2800rpm | 311lb ft @ 3500rpm |
| Transmission | Five-speed manual, four-wheel drive, viscous centre differential, limited-slip rear differential | Five-speed manual or six-speed twin-clutch sequential manual, four-wheel drive, S-AWC, AYC, ACD, ASC |
| Front suspension | MacPherson struts, coil springs, dampers, anti-roll bar | MacPherson struts, coil springs, dampers, anti-roll bar |
| Rear suspension | Multi-link, coil springs, dampers, anti-roll bar | Multi-link, coil springs, dampers, anti-roll bar |
| Brakes | Discs front and rear, EBD, ABS | Two-piece floating front discs, single-piece rear, EBD, ABS |
| Wheels | 7 x 17in front and rear (7.5 x 18in as tested) | 8.5 x 18in front and rear, BBS alloys |
| Tyres | 205/50 R17 Bridgestones (225/40 ZR18 Michelins as tested) | 245/40 R18 front and rear, Yokohama A13 |
| Weight (kerb) | 1395kg | 1540kg |
| Power-to-weight | 189bhp/ton | 182bhp/ton |
| 0-62mph | 5.5sec (claimed) | 5.2sec (claimed, TC SST model) |
| Max speed | 146mph (claimed) | 155mph (limited) |
| Basic price | £19,995 (see text) | £30,000 (est) |
| On sale | Now | March 2008 (orders taken now) |
| evo rating | 3.5/5 | 4.5/5 |