We've grown-up together, the Evo and me. From pounding around the virtual twists and turns of Gran Turismo's Trial Mountain to terrorising the Cotswolds riding shotgun with Richard Burns in his Evo III road car, the Mitsubishi Lancer Evolution has been an ever-present part of my motoring life.
Fittingly, the dummy issue of evo, used as a presentation tool before the launch of the real thing, also featured an Evo – a yellow Evo V – and in the nine years since then we've featured just about every subsequent Evo model.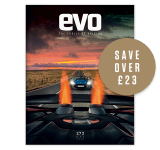 Subscribe to evo magazine
Subscribe today to have every issue of evo delivered straight to you. You'll SAVE 39% on the shop price, and get evo for its original cover price for a whole year!
The very first Lancer Evolution was introduced back in 1992. True to its name, the breed has evolved gradually ever since. At the height of its rallying powers the pace of development was such that we were treated to a fresher, faster Evo almost every year. This relentless succession of tweaked and honed versions slowed as the WRC effort was wound-down, but the introduction of an all-new Lancer base model has given Mitsubishi the perfect opportunity to to revitalise its iconic all-wheel-drive hero.
Diehards needn't worry, for there's also a five-speed manual transmission Evo X. But didn't the IX have a six-speed 'box? Yes, it did, but Mitsubishi justifies this apparent backward step with the fact that the five-speed gearbox was always the preferred choice for rallying, plus it's lighter than the six-speed item found in the Evo VIII and IX. Will it detract from the driving experience? We'll find out soon enough.
And if the Evo X's abbreviation count is anything to go by, dynamically it's going to be a corker. In addition to TC SST the Evo X features S-AWC, or Super All Wheel Control, which is an integrated control system that mediates between the AYC (Active Yaw Control), ACD (Active Centre Differential), ASC (Active Stability Control) and ABS. Suffice to say it makes for a very smart chassis that not only knows how close you are to the limits of lateral and longitudinal grip (or how far you've gone beyond them) but is equipped to divert torque or apply individual brakes to get you back on course.
The weight savings don't stop at the engine, for the Evo X also features a new aluminium front bumper beam, which, in conjunction with an alloy roof, bonnet and front wings (and the battery and washer bottle being moved to the boot), has helped shift the new car's front-to-rear weight distribution by some 3 per cent rearward. There'll no doubt be stripped-out Japanese-market RS and Spec C models in the future. For now, the fully equipped GSR-spec model is closest to that coming to the UK and weighs a rather hefty 1540kg (compared with the Evo IX's 1400kg).
It's a mark of Mitsubishi's ambition for this tenth generation of Lancer Evolution that, rather than keeping us waiting until the new model arrives in the UK, we've been invited to drive the car before its Tokyo show debut. Exciting stuff, heightened by the fact that we'll be let loose at Mitsubishi's Tokachi Proving Ground at Hokkaido in the far north of Japan. Not only does this mean we'll be able to probe the limits of this all-new Evo, but we'll also be taking a rare behind-the-scenes peek at the test facility that has shaped the dynamics of Mitsubishi's all-wheel-drive legend. For an Evo fan it's the equivalent of driving a Ferrari at Fiorano.
After a low-speed recce lap alongside one of Mitsubishi's testers, it's our turn to drive the 1.9-mile circuit. I opt for a full-on High-Performance car with TC SST, and on the tester's advice select the Super Sport shift mode. It's immediately impressive, each pull of the right-hand paddle (made from magnesium, incidentally) delivering a smooth and almost instantaneous upshift, with just enough of a push in the back to let you know the gear's been engaged. Downshifts are equally incisive, with an accompanying throttle-blip every bit as punchy as your very best heel-and-toe work. As ever, the paddle-shift 'box allows you to drive deeper into corners, but once into a busy sequence of bends I can't seem to find the paddles consistently (they're fixed to the steering column rather than the back of the wheel) or with the same confidence that I grab a gearlever. It's a universal gripe with paddle-shifts, not one unique to the Evo, but it remains annoying in the heat of battle.
Perhaps because we've been spoilt by the more visceral performance of assorted FQ variants, the standard-output Evo X doesn't feel as full-on as we've come to expect, with boost building in a mature and linear fashion with little in the way of fireworks. It's smooth if a touch muted in character, but it's still nothing short of rapid, especially around Tokachi's knotted handling course, where speeds only once breach 100mph. Two lanes wide, with deliberately sadistic mid-corner bumps, tightening radii and omigawd adverse cambers all impeccably engineered-in, it's 1.9 miles of relentless interrogation.
In the dry conditions we experienced for our test, the ASC system proved impressive from turn-in to apex – unobtrusively massaging the Evo's trajectory and keeping things neat – but from apex to exit it continued to rein things in when you really wanted to unleash the fat surge of torque and let the immensely capable chassis work unfettered. Thankfully it's possible to switch the system off in two stages: the first disables the torque-limiting element of the ASC but leaves the safety net of individually braked wheels, the second also disables the brake intervention. You need to go the whole hog to get the Evo X dancing, but it doesn't take too much provocation to get it sliding in familiar fashion. You won't be as neat as with ASR engaged, but you'll have a lot more fun on the way into the corner and be much quicker on the way out. Having the choice is proof that the X isn't just intended for Tommi Mäkinen wannabes, but nor is there much doubt that some of the raw thrills have been dialled out.
Hokkaido might be half a world away from our favourite roads, but thanks to the opportunity to drive Tokachi's tortuous tarmac, when we get the chance to introduce the more powerful UK-spec Evo X to the evo Triangle early next year, I've got a suspicion it'll feel right at home.
Specifications
| | |
| --- | --- |
| Engine | In-line four-cylinder, turbo |
| Location | Front, transverse |
| Displacement | 1998cc |
| Bore x stroke | 86 x 86mm |
| Cylinder block | Aluminium alloy, wet sump |
| Cylinder head | Aluminium alloy, dohc, 4v per cylinder, variable valve timing |
| Fuel and ignition | Electronic engine management, sequential multipoint injection |
| Max power | 276bhp @ 6500rpm |
| Max torque | 311lb ft @ 3500rpm |
| Transmission | Five-speed manual or six-speed twin-clutch sequential manual, four-wheel drive, S-AWC, AYC, ACD, ASC |
| Front suspension | MacPherson struts, coil springs, dampers, anti-roll bar |
| Rear suspension | Multi-link, coil springs, dampers, anti-roll bar |
| Brakes | Two-piece floating front discs, single-piece rear, EBD, ABS |
| Wheels | 8.5 x 18in front and rear, BBS alloys |
| Tyres | 245/40 R18 front and rear, Yokohama A13 |
| Weight (kerb) | 1540kg |
| Power-to-weight | 182bhp/ton |
| 0-62mph | 5.2sec (claimed, TC SST model) |
| Max speed | 155mph (limited) |
| Basic price | £30,000 (est) |
| On sale | March 2008 (orders taken now) |
| evo rating | 4.5/5 |