Morgan returns to Le Mans
Partnering with French racing specialist OAK Racing, Morgan makes a surprise return to endurance racing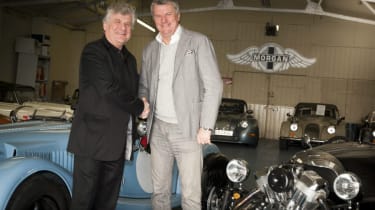 Just days after Peugeot pulls out of Le Mans, Morgan makes a return to endurance racing, entering into a partnership with French motorsport specialist OAK Racing. This will be the first time the British manufacturer has entered the endurance race since campaigning the Aero 8 in 2002 and 2004, but the real inspiration for this return is the upcoming 50th anniversary of the Morgan Supersport taking a class victory in 1962. 
The 2012 entry will be an LMP2-class car, manufactured by Onroak Automotive, OAK Racing's constructor department, based in the heartland of endurance racing - Technoparc des 24 Heures in Le Mans, France.
Charles Morgan, Chaiman of the company, said: 'I am thrilled to be able to announce our partnership with Jacques Nicolet and OAK Racing. It is a source of great pride that we have the opportunity to work with a racing car designer and constructor who has achieved such success on the international stage.
'Whilst Morgan sports cars enjoy a great history we have also gained a reputation for pioneering new technology, and I believe LMP2 represents a superb proving ground in which to develop innovative new methods.'