Koenigsegg One:1 teased ahead of Geneva motor show
Koenigsegg has revealed the new 1322bhp One:1 hypercar, ahead of its official launch at the Geneva motor show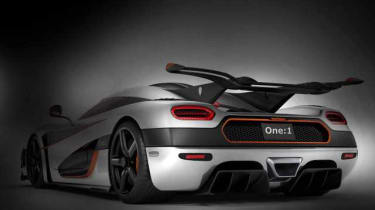 Koenigsegg has shown a teaser image of what is supposedly its most extreme road car to date, the 1322bhp One:1. It is believed that the car takes its name from the fact it has one horsepower per kg of weight – which is quoted at 1340kg.
Destined to make its first public appearance at the Geneva motor show next month, the new model may very well be the car to challenge the Bugatti Veyron Super Sport's 268mph production car top speed record.
Although it is based around the basic Agera shape, there are some significant differences that can be seen from the teaser. Most obvious is the substantial rear wing, which looks to have been reinforced to withstand significant downforce loadings.
The new model moves the game on from the previous flagship Agera model, the Agera S Hundra, which boasted 'just' 1016bhp. If the power figures are indeed confirmed, the One:1 will be crowned as the world's most powerful production car.
No further details have been revealed, but we look forward to hearing more at the Geneva motor show.