Nissan's Gran Turismo concept leads lineup for Tokyo show
Updated with new pictures. Nissan presents innovative concepts in Tokyo, but racy Vision GT the best for keen drivers
The recent Frankfurt motor show provided us with a look at the near future of performance cars, but the Tokyo motor show in late October has traditionally been a venue for previewing an even further future.
Nissan has honoured that tradition by presenting a series of intriguing concepts at the show – starting with the latest version of the firm's striking Concept 2020 Vision Gran Turismo.
Car makers from all around the world have created vehicles for the Gran Turismo 6 videogame, and several have brought thosevehicles to life in the form of full-scale concepts.
Nissan's virtual racer was first presented in physical form at the Goodwood Festival of Speed back in the summer.
There's absolutely no guarantee such a model will be produced in the future, of course, but the wild shape gives an insight into the minds of Nissan's designers, while a four-wheel drive powertrain, active suspension and advanced aerodynamics hints at production cars like the GT-R.
In Tokyo, the previously-grey concept gains a vibrant lick of 'Fire Knight' red paintwork – making it easier to appreciate the sharp lines, dramatic carbonfibre aerodynamic elements and the GT-R-like visual cues – particularly the circular rear lights.
Also hinting at previous Nissan greats is the Gripz concept, first shown at Frankfurt. It'll join the Vision Gran Turismo at Tokyo, with the same hybrid-electric powertrain and styling influenced by – among others – Nissan's classic 240Z, and racing bicycles.
The Juke-sized crossover could hint at the future of the successful Juke itself, but rumours persist that Nissan could be intending to replace the Z sports car line – currently fronted by the 370Z – with a crossover.
The third of Nissan's crazy Tokyo concepts is the bizarrely-named 'Teatro for Dayz'. Less evo and more smartphone, even Nissan itself describes the car as 'as much a giant mobile battery as four-wheel transportation'.
It's designed to appeal to the new generation of 'share natives' - younger people who have shown little interest in modern cars so far. Rather than the affordable performance cars we'd champion as the solution, Nissan sees the answer being an extension of the generation's smartphones and tablets.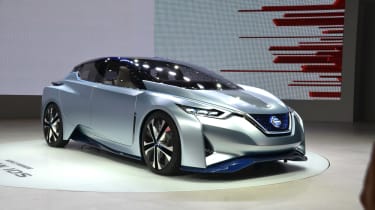 Nissan's final concept is the IDS. While more intriguing in apperance than the Teatro for Dayz, it's equally likely to cause consternation for petrolheads, as IDS is an autonomous driving concept. Taking the form of a sporty hatchback, IDS allows both human and computer control.
Part of the IDS's mission is safety-related, with systems to read the road ahead, interpret traffic conditions and communicate with other vehicles using a system of body-mounted LEDs - essentially letting pedestrians, cyclists and those in other cars know you've seen them.
You can find out more from the Tokyo motor show by heading to our full show hub. Keep your eyes peeled on evo.co.uk for more stories from the show.